Cover Date: September 1935
Volume 6 # 1
Copyright Date: Friday, August 16, 1937
Author: Lester Dent
Editor: John Nanovic
WHMC: The collection contains eight folders for this story, f.303-310.
Recurring Characters. Monk, Ham, and Long Tom appear.  Renny is in Germany at an Engineering conference.  Johnny is in Central America.
---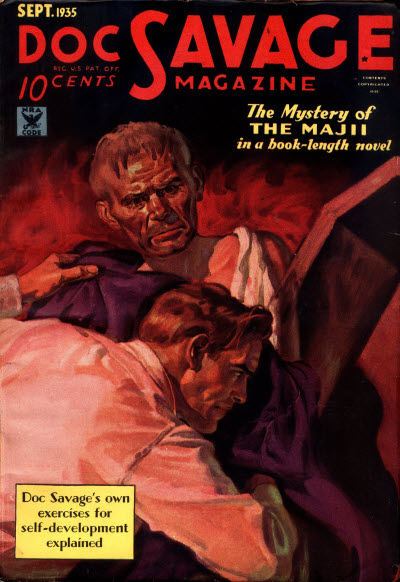 ---
 TABLE OF CONTENTS
The Majii by Kenneth Robeson
Ghost Ship Gold by Earl Griffin
The Map of Death by Edwin Burkholder
The Snake Trap by George Allan Moffatt
The Doc Savage Method of Self-Development
Doc Savage Club
For Self-Development
The Fabled Princes of India
Repairing Ocean Cables
Viking Iron – Hawaiian Mummies
From Our Members
---
Western Historical Manuscript Collection: The working title for this story was "Genie."
This story deals with an imaginary country named Jondore.  One of the main characters, the Ranee, is the widow of the Nizam who is the country's ruler. 
Hyderabad in central India was home to a dynasty ruled by the Nizam.  From 1724 to 1948, seven generations of the Asif Jahi dynasty ruled over this province.  Hyderabad is also famous for its pearl industry even though it is far from the seashore.  Rather it is the skill of its artisans in working with the precious ornaments that forms the base for Hyderabad's reputation.
Dent's description of the Majii's tomb is very similar to the Kaaba in Mecca.  But the location seems to have more in common with Zoroastrianism than Islam.  The big urn with the flame resembles a fire temple.  In conjunction with that thought, the location of the tomb on a high hill is more akin to the Tower of Silence used by the Zoroastrians to bury their dead.
The Crime College: In "The Majii," the reader meets a plump man who is head of a large psychiatric hospital.  Undoubtedly it is Bellevue, but it is not named as such.  The doctor turns out to be one of Doc's mentors.  He is one of the many talented individuals Doc has trained under.  The man makes no bones about Doc Savage's superior knowledge.
Just who is the doctor?  We never really learn exactly but the question arises as to whether he is the individual referred to in "Spook Hole."  Is this the man the criminal went to for treatment of his physical injuries?  Is this doctor privy to the Crime College?  Alas we can on speculate to that answer.
One more interesting fact surfaces regarding Doc's unusual treatment center.  We are told that it has been in operation a "long time".  "The Majii" is only the thirty-first adventure.  Less than three years has passed since the first story.  That short amount of time hardly accounts for the operational period alluded to in the story.
Readers should also note that "The Majii" shares many similarities with "The Mystic Mullah."