Cover Date: June 1933
Volume 1 # 4
Copyright Date: Friday, May 19, 1933
Author: Lester Dent
Editor: John Nanovic
Bantam Edition # 4, April 1965
Sanctum Edition # 6
Story Length: 46,600 words
WHMC: The collection contains eight folders for this story, f. 65-72.
Recurring Characters.  The entire Iron Crew are all present in this story.
Piracy: Here is the story of a mutiny with the prize being a fabulous treasure carried by the Oceanic.  The Helldiver makes its first appearance here, being the personal craft of Captain Chauncey McCluskey.
This is the first of Dent's "pirate" stories, but it won't be the last.  The pirate theme is reused again and again in several later stories.  Dent was very interested in treasure hunting.  Dent spent some time out west panning for gold.  Dent eventually bought a small schooner, the Albatross, on which he lived for several years.  During this time, he went on several excursions looking for lost Spanish gold.  The pirate theme is reflection of his interest in this subject.
Dent's choice of the name for the ship may have been purely romantic but in 1928 the White Star Line ordered a new ocean liner that was to be named Oceanic.  Construction did not go smoothly, and the ship was eventually stopped, and the order cancelled.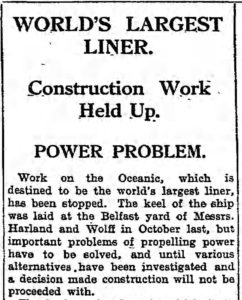 Treasure: The Oceanic treasure consists of $50,000,000 in gold and diamonds lost during World War I.
Jules Verne's character Captain Nemo conquers the South Pole in his vessel the Nautilus. Doc and his crew prevail over the northern ice in The Polar Treasure. Whereas the Nautilus has a near disaster after being trapped in an icy sepulcher, Doc's vessel, the Helldiver, carries a quantity of liquid chemicals that will melt the ice should their ship become similarly trapped.
The Polar expedition aspect of Dent's story has some basis in fact.  In 1931 famed explorer George Hubert Wilkins set off for the North Pole in a surplus World War I submarine, the USS O-12, now christened Nautilus.  It's also interesting to note that Wilkins middle name, Hubert, was used in The Man of Bronze for Hubert Robertson.  Perhaps Dent was paying homage.  Wilkins did not give up on his polar expedition.  He was again in the news in September 1932 attempting to build a new polar exploration craft.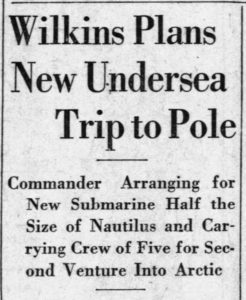 Hubert Wilkins died in 1958.  On March 17, 1959 the nuclear submarine, USS Skate surfaced at the North Pole.  Wilkins' ashes were on board the submarine.  The crew built an icy cairn in which they placed the explorer's ashes.
It seems likely Dent interjected the Helldiver into the story as a way of grabbing onto some of the excitement surrounding this notable and exciting scientific adventure.   Both the submarine and the local in which the story takes place can be attributed to this newsworthy event.
Dent adopts the basic plot elements for this story from Treasure Island by Robert Louis Stevenson.  More information is available on this adaptation – The Polar Treasure Island.