Cover Date: April 1933
Volume 1 # 2
Copyright Date: Friday, March 17, 1933
Author: Lester Dent
Editor: John Nanovic
Cover Artist: Walter M. Baumhoffer
WHMC: The working title for this story was "The Mountain of Terror."  The available material in the collection comprises 10 folders, f. 47-56.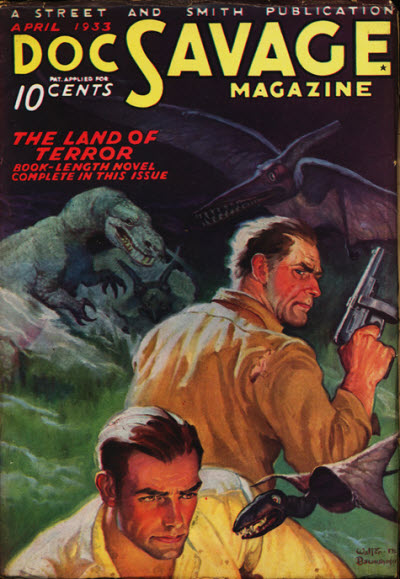 ---
TABLE OF CONTENTS
The Land of Terror by Kenneth Robeson 
Buccaneer Bayou by Walter Wayne 
Dead Men's Gold by Frank J. Eggers 
Limehouse Midnight by Jo H. Chamberlin
Treasure Trove 
---
Gimmick: A substance that disintegrates almost all materials.
Goal:  Initially the material is used as a tool for burglary and robbery.  Kar's ultimate goal, if any, is not mentioned.  However, a "working fund" is mentioned which indicates Kar had additional plans readers are not privy to.
Fortress of Solitude: Jerome Coffern is openly speculating about Doc's secret lab to his fellow workers.
The story starts off in New Jersey at a large chemical concern.  It moves across the George Washington Bridge onto Riverside Drive and the Hudson River.  The closest motor vehicle crossing to south at the time was the Holland Tunnel.  The Lincoln Tunnel, which is now situated between these two crossing was not completed until 1937.  These locations are all south of the bridge.  There were no close river crossings north of the bridge during this time.
Taxidermy is prominently featured in the story in the person of Oliver Wording Bittman who has a display in the Smithsonian Institution.  Bittman was described as tall and thin with a prominent jaw.  Bittman's character is likely based on Carl Akeley who established himself as the founder of modern taxidermy. 
Akeley died in 1926 while on an expedition in the Belgian Congo.  Both the Field Museum of Natural History in Chicago, Illinois and the American Museum of Natural History in New York had displays which featured Bittman's work.  Akelely Hall was opened in 1936 at the  American Museum of Natural History.  In the early stages of the story, Doc Savage works his way from Riverside Drive to Bittman's apartment which borders Central Park.  Readers should note that this is also a close approximation to the American Museum of Natural History's location.  Bittman turns out to be the villain Kar whose gang name sounds very similar to Carl with the last letter omitted.
Steinmetz and Edison are both mentioned in the story.  Both men figured prominently in the development and understanding of electricity.  Charles Proteus Steinmetz died in 1923. 
The death of Thomas Alva Edison was more recent occurring in 1931.  Edison is later mentioned as a candidate for reanimation in "Resurrection Day." Steinmetz returns incognito in a later Doc Savage story, "The Vanisher," which plays strongly on both Steinmetz's genius and physical ailments.
Monk smokes cigarettes but buys tinned tobacco and rolls his own cigarettes.  This is mentioned again in "The Sargasso Ogre."
At the time this story was written the Periodic Table of Elements stopped at element ninety-two, Uranium.  And not all of those ninety-two elements listed had been discovered.
The cost of a smoke screen on the Jolly Roger was expensive by 1933 standards.  That one-dollar smokescreen is the equivalent of seventeen in 2012 dollars.
The story mentions that Doc Savage has saved the life of the city's most powerful political boss. The identity of this person is not clear. But the New York City Police Commissioner visits Doc at his offices.  Edward P. Mulrooney was the commissioner at the time this story was written. Mulrooney made his way up from the ranks, beginning his career as a patrolman in 1896. He was the first officer to ever rise up from the ranks to become Commissioner.  He was only 21 years old when he interviewed with then Commissioner Theodore Roosevelt.
Kar's gang steals $2 million in gold using a large truck to haul the swag away. Assuming the lot is in the form of the $10 gold pieces the total weight would be over 7,300 pounds.
Doc uses a metal shield against the Smoke of Eternity.  This trick is reused in a slightly different form in Red Snow.
Doc's hospital mentioned in upstate NY mountains.  It is not yet called the "Crime College."  Treatments are described as psychological.  Surgery is not mentioned as a course of treatment.
Doc has a low-wing speed plane with enough range to cross the Atlantic Ocean.
The story reports six million dollars being transferred from Hidalgo.  That would be over $100 million in today's dollars.  But that is the only the adjusted value in dollars. Given the high value gold bullion has enjoyed the amount could easily be double.
The active volcanic cone, Ngauruhoe, in New Zealand is mentioned.  The story's final locale is about as far away from New York City as it is possible to be. New Zealand was in the papers in 1931 when the Hawk's Bay earthquake killed 256 people. An article in the February 4, 1931, edition of the San Bernardino County Sun mentions that Mount Ngauruhoe is only sixty-five miles the impacted region.
The Thunder Island described in the story does not exist.  The Antipodes Islands lie some five hundred miles southeast of New Zealand.  There is an active volcano, Mount Galloway, located there but it is only a meager 1,300 feet tall compared to the 10,000 feet of Thunder Island.
Since there has always been considerable discussion about this story and the amount of killing in it, I paid close attention to some of the details. In general, it seemed to me that Doc only killed in self-defense.  A couple of other circumstances are odd.  In one instance during a fight, Doc cuts off a fellow's hand.  The man then dies from shock brought on by his drug addiction. In another situation, Doc shoots down some gang members just as they are about to open fire on his men and surely kill them. There is not time for Doc to do anything except grab one of the criminal's machine guns and shoot them first.
There also seems to be some confusion about the first villain Doc fights. The man receives a terrific blow to the face, but it does not appear to be lethal. Later it is said that all of Squint's five original men are dead but then we are told that the ambulance only took away the body of the man whose neck was broken.
One villain is left on the island and is presumably killed after the lava dike is breached.  In the death of Kar, he jumps from the plane before we can know what would have happened.  It is similar to the death of Don Rubio Gorro in The Man of Bronze.  The killer jumps to his death rather than face Doc Savage. What exactly would have transpired had that not happened is arguable. We do know that the other members of Kar's gang are sent to the Crime College for rehabilitation.
Certainly, Doc was no angel and certain phrases in the story depict him as death dealer but when you sit down and examine the varying circumstances you find that the murderers are being killed in self-defense.  It can be argued that there are so many deaths in this story because Doc was up against an especially vicious gang. The murder of Jerome Coffern is as cold blooded as they come. Also remember that everyone else associated with the Thunder Island expedition had been murdered at Bittman's orders.
 
Surely this is a bloody story as there must be thirty or more deaths in the entire account including the gang members who Kar himself killed to silence.  Later on, Doc has the mercy bullets and the metal thimbles he uses to drug his enemies in a fight. Perhaps if he had had these there would not have been so many deaths in this story.  Doc personally kills about twenty men.  That is a lot but if you look closely things are happening in kill-or-be-killed type situations.  The flavor of this novel is certainly violent and bloody.
 
"Gladiator" by Philip Wylie has an interesting parallel.   There is a scene where Hugo Danner is playing football.  His temper gets the better of him and he ends up killing a member of the opposing team.  Danner simply breaks his neck with a single blow.  Danner is a changed man after this.  He leaves college and goes into exile.  For a while he seeks out danger on the chance he can help.  Hugo Danner has a new appreciation for human life.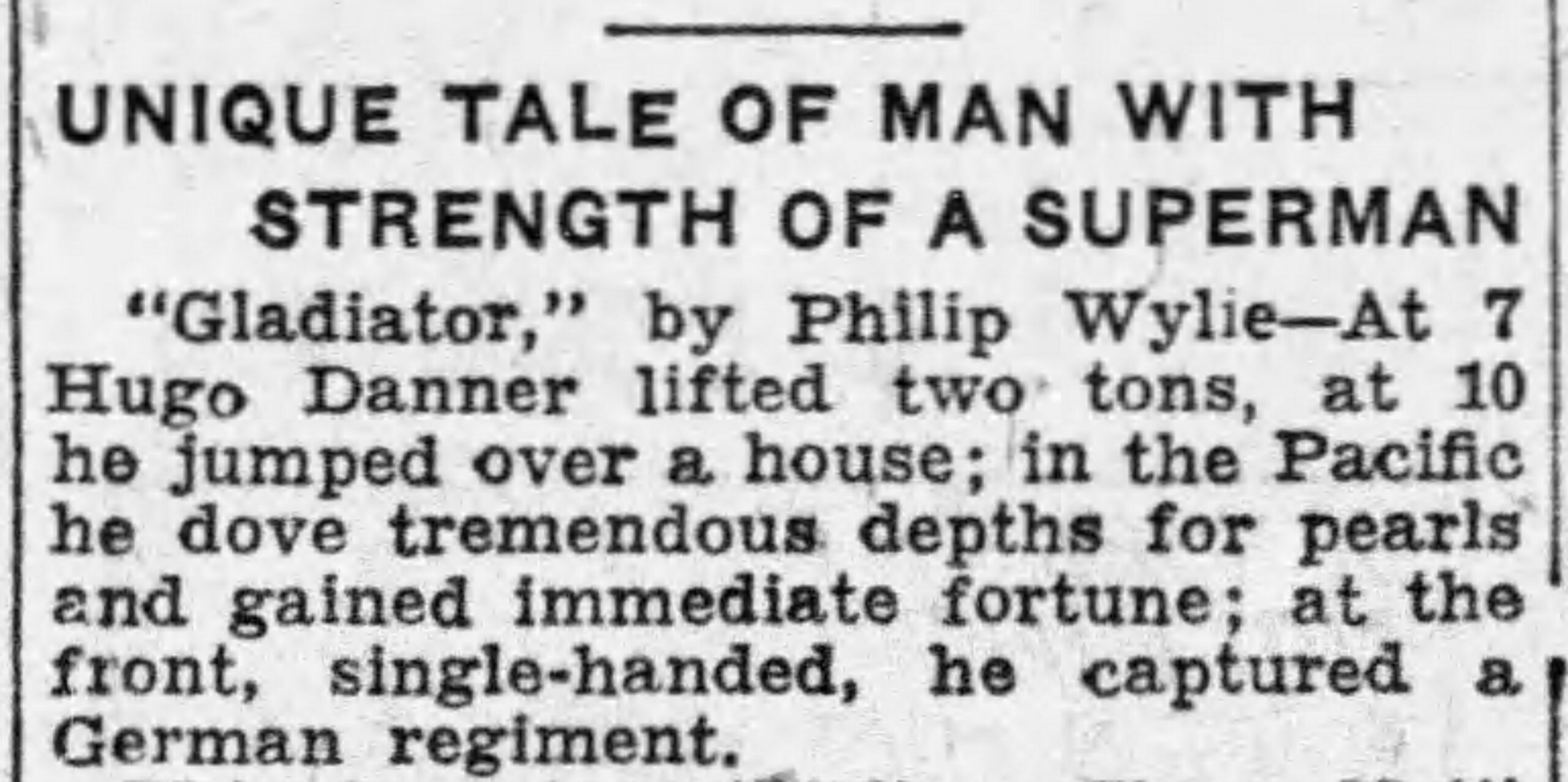 One could view "The Land of Terror" in the same way as Hugo Danner's last football game.  That is, you could if Doc had actually killed in anger.  That is not the case.  Dent makes a particular point of documenting Doc's philosophy: "Doc Savage never shot a man except in actual defense of his own life, or that of someone else."
 
King Kong raises some interesting questions about the movie and the story.  The movie was in production from January 1932 through early February 1933.  There were many articles about the movie even before it was released.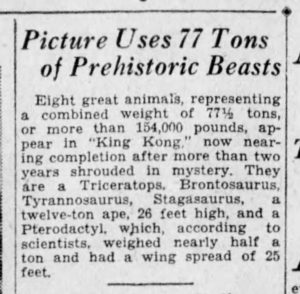 Advance publicity for the film may have led Lester Dent to adapt some of the movie's elements into his own story, "The Land of Terror."  Both Skull Island and Thunder Island are surrounded by insurmountable cliffs, and each is populated by dinosaurs. The New York Times published an article on the up-and-coming movie, in the January 22, 1933, issue, titled "Hollywood's Mighty Ape."  But there may be much more to this.  In December 1932, "King Kong" appeared in novel form (Grosset & Dunlap) as an advertising tool to promote the upcoming film. The story is credited to Edgar Wallace and Merian Cooper but actually was written by Delos W. Lovelace.  Certainly, Lester Dent had an opportunity to read the story before submitting his story to Street & Smith.
Monk makes a joking comment about caterpillar liquor. For modern readers this may bring forth images of mezcal replete with worm in bottle.  The practice of adding a worm to the bottle liquor began in the 1940s.
Dent includes some colorful language in this story in describing the local flora of the South Seas.  It is interesting prose, but it is not exactly original.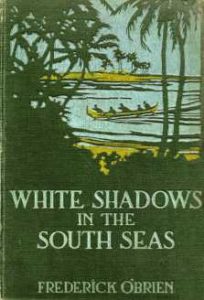 Dent picked over some text from "White Shadows in the South Seas" by Frederick O'Brien which was published in 1919 and made into a silent film in 1928.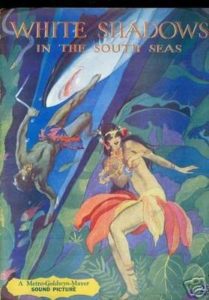 The same material shown below also appears again in the May 1942 adventure, "Pirate Isle."
O'Brien
I saw around me ever new and stranger growths orchids, giant creepers, the noni enata, a small bush with crimson pears upon it, the toa or ironwood, which gave deadly clubs in war-time,
The umbrella fern, mana-mana-hine, was all about. The ama, the candlenut-tree, shed its oily nuts on the earth. The puu-epu, the paper mulberry, with yellow blossoms and cottony, round leaves, jostled pandanus and hibiscus;
The candlenut, the ama, with its lilac bloom, the hibiscus and pandanus, green and glossy, the petavii, a kind of banana the curving fronds of which spread high in air, the
Dent
There was noni enata, a diminutive bush bearing crimson pears, ironwood, umbrella ferns which grew in profusion, candlenut trees, and the paper mulberry with yellow blossoms and cottony, round leaves. Hibiscus and pandanus spread their green and glossy flowers, and there were many petavii , a kind of banana, the fronds of which arched high.
 Here is another comparison of two passages.
O'Brien
When they were cooked, a trough of popoi and one of feikai, or roasted breadfruit mixed with a coconut-milk sauce, were placed on the…
 Dent
The hunters also gathered coconuts, so as to make feikai, or roasted breadfruit mixed with coconut-milk sauce.
---