1924
By early October 1924, Dent had completed his course work at Chillicothe Business College. The October 2 issue of The Chillicothe Constitution Tribune reported that Dent had completed the Western Union Manager School in Chillicothe. He left town to take an appointment in Marshal, Missouri as the Western Union manager.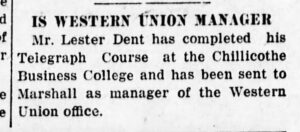 On Sunday, October 12, Lester Dent was in La Plata from Marshal visiting friends.
Source: The Chillicothe Constitution Tribune, Monday, October 13
The next report on Lester Dent came from the La Plata Home Press dated Thursday, December 4, 1924. The article listed him as a resident of Chillicothe.
On December 21, Lester Dent ran an advertisement for a telegraphy student.
Source: Bigger Than Life, The Creator of Doc Savage by Marilyn Cannaday, 1990, page 66
---
1925
January 1925 found Dent still working as the relief operator in Carrollton, Missouri (Macon Chronicle-Herald, Thursday, January 8). This was a fortuitous posting for Dent for there he met his future wife, Norma Gerling. The next news we read about Lester Dent is that he was working form Empire Oil Company in Bartlesville, Oklahoma in the spring. By July, he was working in Ponca City, Oklahoma.
By May 7, Dent had left Western Union and was working for Empire Oil Company in Bartlesville, Oklahoma. The July 16 issue of the La Plata Home Press reported Lester Dent, a resident of Ponca City, Oklahoma, was in town visiting his parents.
On August 9, Norma Gerling and Lester Dent were married in Ponca City. The marriage took place at the First Baptist Church of Ponca City and was conducted by Rev. Hunter. Lester Dent was still working for Empire Pipe Line Companies in Ponca City. The couple had only known each other a scant seven months. They would remain married another twenty-four years until Lester Dent's death in 1959.
---
1926
An article dated April 8, in the La Plata Home Press stated that Lester Dent was leaving his job with Empire Pipe Line Companies to work for the Associated Press in Oklahoma for the Chickasha Express. Dent will be working as a telegraph operator.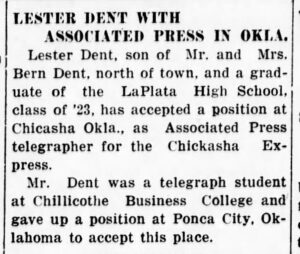 Lester Dent's mother, Alice Dent, traveled to Tulsa, Oklahoma to visit her son, Lester Dent, and his wife. Dent works as an Associated Press telegraph agent at the Tulsa Daily World. Source: La Plata Home Press, La Plata, Missouri, November 4
---
1927
The 1927 Tulsa City Directory listed Lester and Norma Dent's address as 918 South Boulder Avenue, Tulsa, Oklahoma. His occupation was telegraph operator for the Tulsa Tribune.
L. E. Paris, Division Chief for the Associated Press in Kansas City, Missouri wrote to Lester Dent on March 10. The letter was sent care of The Tribune. Paris was writing in response to Dent's letter dated March 9. Paris wrote to confirm that Dent will be coming to Kansas City to fill in while other workers are on vacation. Paris noted that he mentioned this in his letter dated March 5. Paris stated that Dent will have to take his own vacation April 3 – April 16 and report to work in Kansas City on April 17. Source: WHMC Folder C3701_f1.
The La Plata Home Press reported on April 7, that Lester Dent and his wife were in town visiting his parents. The article reported that Lester Dent had been transferred to the Kansas City Star as a wire operator for the Associated Press. Dent is on the vacation referred to in the March 10 letter from the A. P. Division Chief.
---
The Kansas City Star was a very significant connection for Lester Dent. One of the other Associated Press telegraph operators at the newspaper was a man named Lawrence A. Foster. This is the coworker who later inspired Dent to write stories while they were both working for the Tulsa World in 1928.
---
Dent visited the Telegraphy Department at Chillicothe Business College as reported in the Chillicothe Constitution on April 16. Dent was transferring to Kansas City to work for the Kansas City Star. The article rehashed Dent's history and noted he was a 1924 graduate of the school. His weekly salary was listed as $60 to $70. Dent was noted as having worked for The Express in Chickasha, Oklahoma in early 1926.
On April 17, Lester Dent reported to work as a relief operator in Kansas City.
An article dated April 21, appeared in the La Plata Home Press. The article provided some background on Lester Dent's education and work history. It mentioned that he was featured in the May 1927 issue of A. P. Magazine. The paper again reported on May 5 Lester and Norma Dent were in town on Sunday visiting Dent's parents.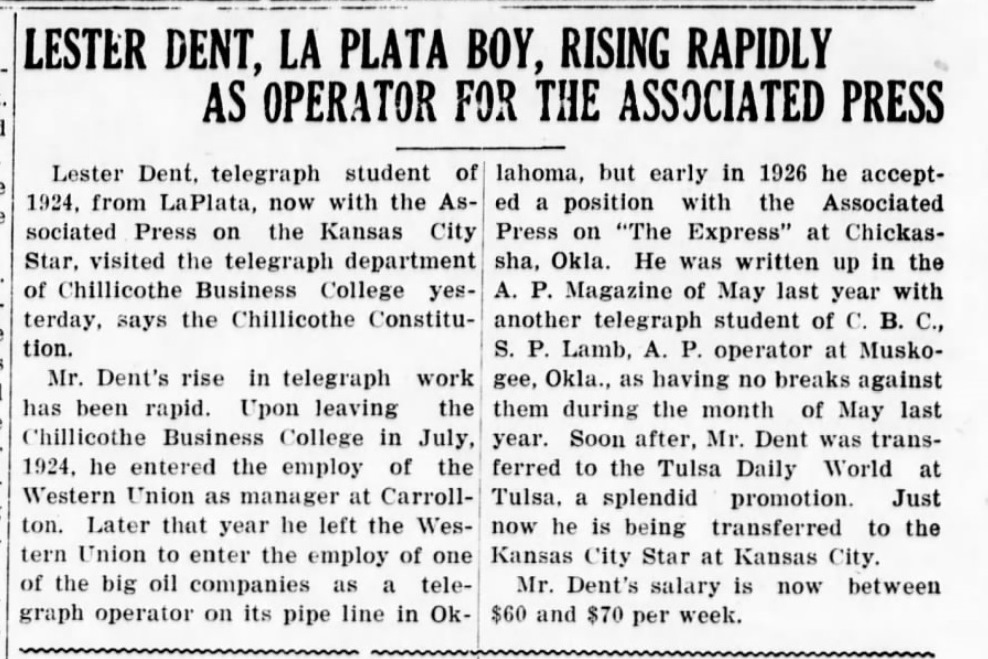 Lester Dent appeared in a letter from the Division Chief Operator dated November 5. Dent and six other operators were recognized for their skill and proficiency for work done during the week ending November 5.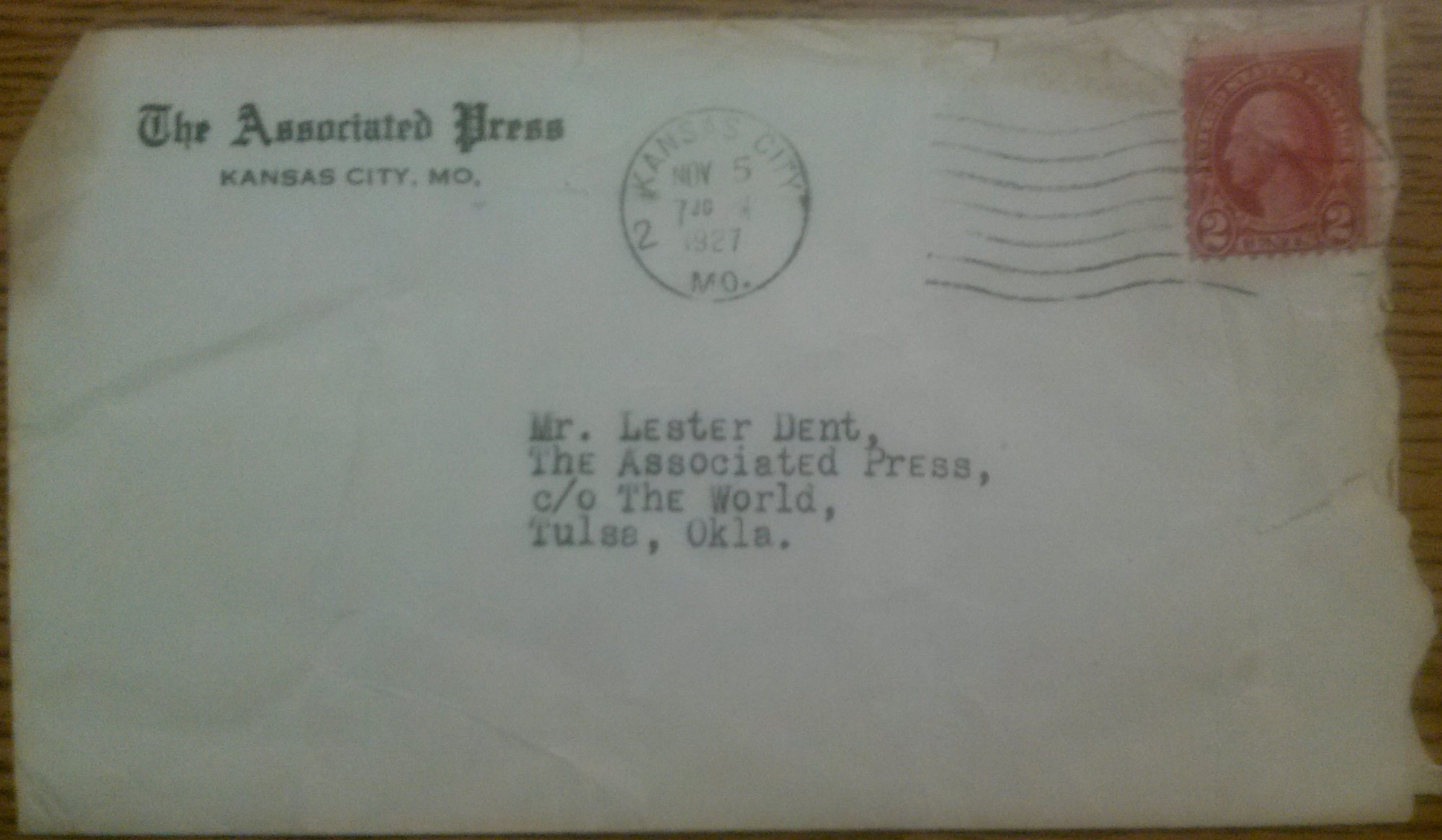 Lester Dent was noted in the November 14, edition of the Daily Ardmoreite, Ardmore, Oklahoma. There was a tragedy involving one of Dent's coworkers. Roy Montgomery, an Associated Press Operator in Tulsa was found unconscious in his garage this morning. The man was discovered when the night operator, Lester Dent, called inquiring about the man who was scheduled to worth that morning. Montgomery died later in the morning at the local hospital.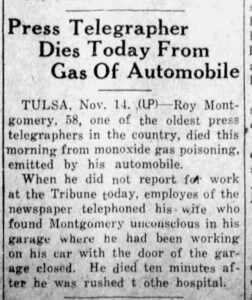 ---
1928
The 1928 Tulsa City Directory recorded Lester and Norma Dent living at 1101 South Detroit Avenue, Tulsa, Oklahoma. His occupation was listed as phone operator for the Tulsa Tribune.
Lester Dent stopped by the Chillicothe Business College for a visit. He was traveling from La Plata where he had been on vacation to Tulsa, Oklahoma. The article stated Dent worked for the Tulsa Daily Tribune as an Associated Press operator. Source: The Constitution Tribune Publication, May 31
---
1929
Lester and Norma Dent were living at 1440 South Quaker Avenue, Apartment 3, Tulsa, Oklahoma as recorded by the 1929 Tulsa City Directory Dent works as an Associated Press operator. During 1929, Dent was working for the AP on the Tulsa World and Tulsa Tribune. He worked the night shift from midnight to 8am. His salary was $145 per month.  Source: Bigger Than Life, The Creator of Doc Savage by Marilyn Cannaday, 1990, page 6
---
Another important contact Lester Dent made at the Tulsa World was Harold A. Davis.  He had been working for the World Publishing Company since 1926.  Dent would later call on Davis to help him ghost some of the Doc Savage stories. 
---
John T. Norfolk was Lester Dent's maternal grandfather.
How World Readers Get the News – The Tulsa World featured an article written by Lester Dent in its April 29, edition. Source: Columbia Manuscript Collection Number C3071, Index
---
1930
The 1930 City Directory found that Lester Dent was yet again at a new address. Lester and Norma Dent was living at 1132 South Quincy, Tulsa County, Tulsa, Oklahoma. His occupation was listed as A. P. Operator for the Tulsa Tribune. On April 8, the 1930 Federal Census showed the same details. Dent is working as a newspaper telegraph operator. Room rent was $55 per month.
Lester Dent was included as one of the authors working in Oklahoma in the May 3 issue of Harlow's Weekly (Oklahoma City, Oklahoma). Norma Dent also suffered a miscarriage in April.

Lester Dent wrote to Paul Collins on May 20. The letter pertained to his work as an Associated Press Operator at the Tulsa World regarding new equipment installation. Collins who was the T. D. R. Associated Press in Oklahoma City.
The La Plata Home Press, June 12, carried an article on Lester Dent who recently talked about short story writing for the Oklahoma University journalism extension class and the writer's club in Claremore, Oklahoma. The article included a nice picture of Dent wearing an aviator's leather helmet with goggles on his forehead in classic pose. Dent was working the night shift for the Tulsa World. The article mentioned that Dent attended the Tulsa University law school for a short period. 
Lester and Norma Dent of Tulsa, Oklahoma visited Dent's parents as reported by the La Plata Home Press, July 3.
Lester and Norma (Gerling) Dent were in Carrolton on Saturday, October 18 for the funeral of Lewis Gerling.
On December 2, Richard Martinsen at Dell sent Lester Dent a telegram inviting him to come to New York and work until his tutelage. Dent replied by telegram the same day that he fell within Martinsen's guidelines to come to New York but needs to think it over.
Source: WHMC Folder C3701_f2
Martinsen and Dent exchange a few more letters. On December 16, Richard Martinsen at Dell wrote to Lester Dent in response to Dent's letter declaring they were coming to New York. Martinsen urged Dent to do his best to get to New York by early January 1931.
Source: WHMC Folder C3701_f2
Lester Dent wrote Mr. Collins at the Associated Press on December 16, about a leave of absence. Dent would like to get two months off.
Source: CA5569_Box10_correspondence_f1
On December 19, P. D. Petty, Supervisor Operating Personnel wrote to Lester Dent. Collins had forwarded Dent's letter of December 16 to him. Petty let Dent know the law restricts them to thirty days leave without pay. Petty referred to the "course" Dent plans on taking. Petty noted that it may be possible for Dent to work while in New York if he desires. Dent replied to Petty's letter the next day. December 20. Dent would like to start his leave on December 28.
On December 20, The Sooner State Press carried an article titled Fiction Field Beckons to Tribune Man in its Saturday, December 20, edition. The article noted that Dent had four years of experience working for the Associated Press as an operator. Dent is leaving to join the staff of Sky Riders in New York City. He has been writing and selling fiction for the past two years. The article listed several stories Dent has authored:
"Pirate Cay"
"Death Zone"
"Buccaneers of the Midnight Sun"
"The Thirteen Million Dollar Robbery"
"Vulture Coast"
"The Devil's Derelict"
"The Skeleton from Moon Cay"
"Hell Hop."
An article published in the La Plata Home Press on December 25 stated Dent will leave Tulsa, Oklahoma, and head for New York on January 1, 1931. The article noted Dent will visit his parents before leaving for New York. Dent has been working for the Tulsa Tribune for four years and has been writing commercially for less than two years.
---
1931
The Dents arrived in New York City on January 1, 1931
Source: National Register of Historic Places – Dent Home: Section 8 page 16
On January 13, 1931, Lester Dent signed a one-year lease for the furnished room D-1 at the Hutchinson Garden apartment building located at 224 Brookside Avenue, Mount Vernon, New York. The lease period ran from January 15, 1931, through January 14, 1932, for $105 per month. The lease listed Dent's previous address as Hotel New Yorker, New York.
Lester Dent wrote to P. D. Petty on January 17, 1931, sending in his letter resigning from the Associated Press.
---
---
That was the end of Lester Dent's career as a telegraph operator but not the end of Lester Dent and telegraphy. Dent would go on to include telegraphy in many of his future Doc Savage stories.
June 1933: This didn't worry him much. Danger seldom worried Doc. A telegraph operator in a great relay office becomes accustomed to the uproar of instruments about him. – THE POLAR TREASURE
September 1933: "Hazir ol!" The shouts spread with telegraphic speed. "Alert!" – THE LOST OASIS
December 1933: "He resorted to his fingers. He was forced to go slowly, leaving plenty of space between his words. It was like an expert telegraph operator transmitting to a beginner." – THE PHANTOM CITY
January 1934: The opening scene of "Brand of The Werewolf" takes place in a railroad telegraph office.
February 1934: The man was an expert telegrapher. In his pocket reposed a letter-perfect copy of John Acre's communication. – THE MAN WHO SHOOK THE EARTH
April 1934: Doc Savage drew his flashlight and pointed it at the plane sound. His thumb tapped the button, and the lens spouted long and short bursts of light — the telegraphic code. – THE MONSTERS
April 1935: "The Spook Legion" is another story that begins in a telegraph office. The main villain is named "Telegraph" Edmunds.
May 1935: A telegraph key appears here as part of an electronic lock. From a pocket Stunted took what was unmistakably ordinary copper wires, a telegraph key and a battery, hooked in series. He touched the wires to two portions of the ball hull, where there were evidently contacts, held them there; then, covering the key with his coat so no one could see just what combination he tapped out, he manipulated the key. – THE SECRET IN THE SKY
June 1935: A telegraph sounder clicked in response to the depressing of the inlay. But it did the clicking many stories below, in the basement of the skyscraper. The telegraph sounder was mounted in a resonator in Doc Savage's basement garage. – The Roar Devil
September 1935: Long Tom's car stood in a dark side street, askew of the sidewalk, one wheel smashed off, the radiator partially caved in by a telegraph pole. Water still drooled from the radiator. – THE MAJII
February 1936: It was possible, by long and short squeezes of their joined hands, to converse telegraphically. – MYSTERY UNDER THE SEA
May 1936: The feet of the two fake telegraphers skidded a little as they worked across the sidewalk. – THE METAL MASTER
The list goes on and on. Telegraphy was embedded in Lester Dent's brain. Things did not happen at lightning speed, It was telegraphic speed. Doc Savage does not use the Morse code; he uses the telegraphic code. Long Tom's car runs into a telegraph pole, not a power pole or a light pole. Dent would continue interjecting telegraphy into the stories multiple times.