1924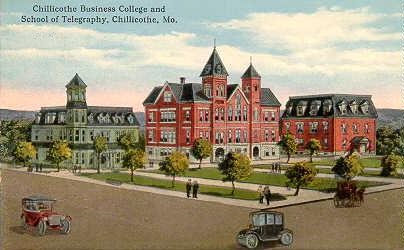 An article in the La Plata Republican dated Friday, January 11, reported that Lester Dent entered the telegraphy course at Chillicothe Business College in early January 1924. He took a room at the home of his instructor, E. M Roberts, who was the Telegraphy School Principal.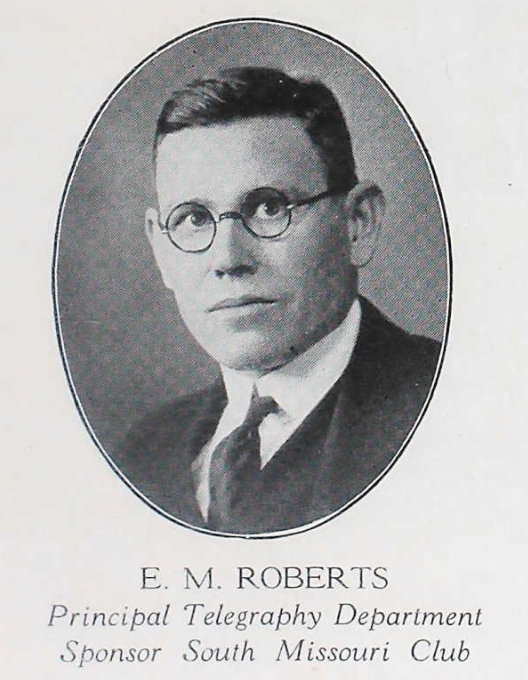 The 1923-24 edition of the school yearbook, The Dux, has several photographs of the young student. He was a somber student with a full head of hair.
The April 18, issues of the Lewis County Journal reported that Lester Dent, son of B. Dent, had spent the weekend visiting with "homefolks."
Lewis County is over a hundred miles away from the Chillicothe Business College. In Bigger Than Life, The Creator of Doc Savage, Marilyn Cannaday mentions that Lester Dent had been briefly engaged while enrolled at Chillicothe Business College. However, there is no additional information on this subject. Lester Dent seemed to be a long way from home over in Lewis County. Could he have been visiting the home of his then fiancé? We will probably never know.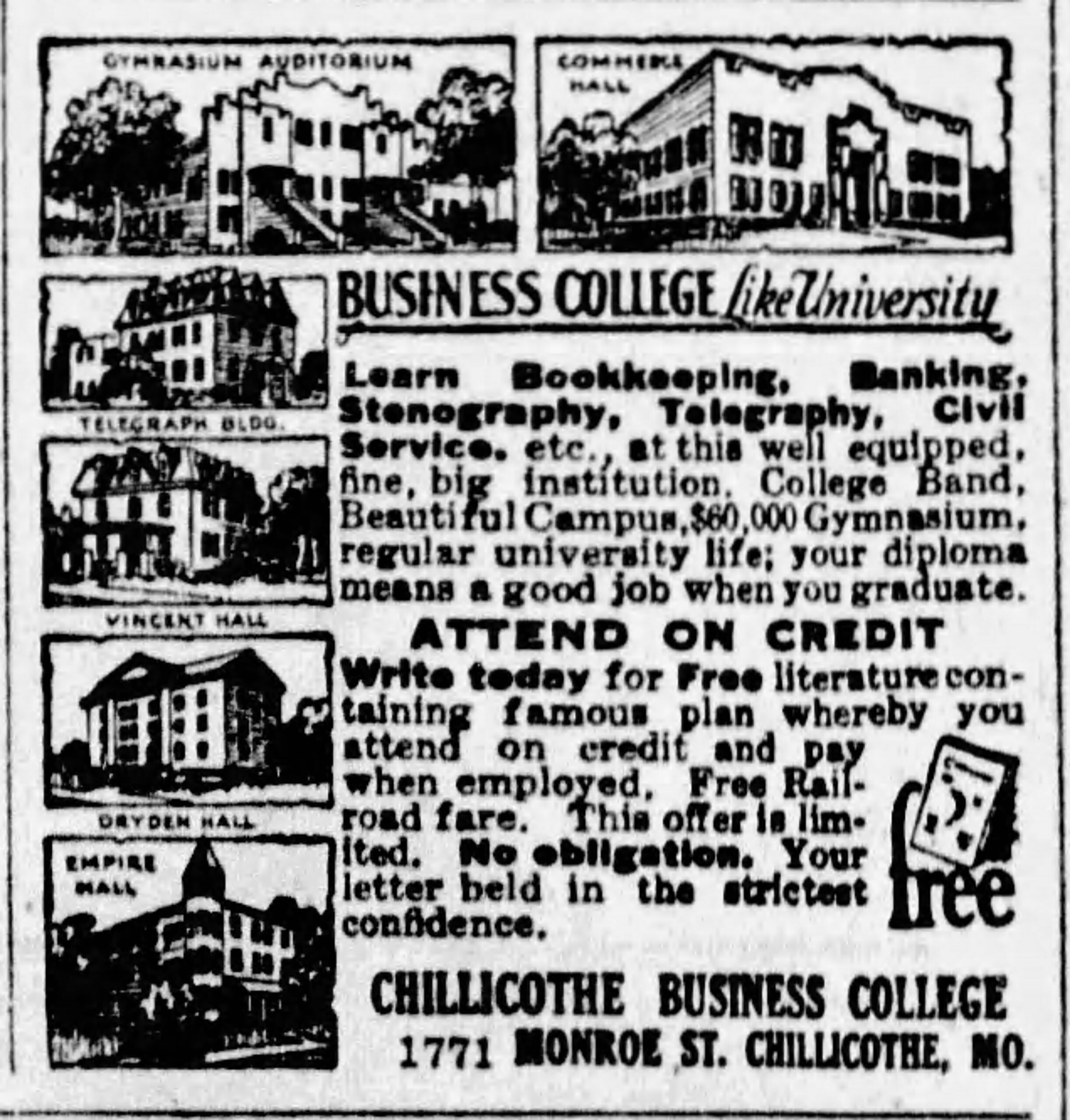 Lester Dent was in town for a few days to visit his parents according to an article in the La Plata Home Press dated Thursday, July 10.
By early October 1924, Dent had completed his course work at Chillicothe Business College. The October 2 issue of The Chillicothe Constitution Tribune reported that Dent had completed the Western Union Manager School in Chillicothe. He left town to take an appointment in Marshal, Missouri as the Western Union manager.
---
Lester Dent appeared to have some fondness for his old school and came back to visit several times.
1927
Visits His Old Home – Dent visited the Telegraph Department at Chillicothe Business College as reported in the Chillicothe Constitution. Dent is transferring to Kansas City to work for the Kansas City Star. The article rehashes Dent's history.  His weekly salary is listed as $60 to $70.  Dent is also listed as having worked for The Express in Chickasha, Oklahoma in early 1926.  Dent's salary is reported at $60-70 per week.  Source: Chillicothe Constitution Tribune, April 16, 1927
1928
Former Telegraph Student a Visitor – Lester Dent stopped by the Chillicothe Business College for a visit.  He was traveling from La Plata where he had been on vacation to Tulsa, Oklahoma.  The article states Dent works for the Tulsa Daily Tribune as an Associated Press operator.  Source: The Constitution Tribune Publication, May 31, 1928
1933
C. B. C. News – Lester Dent visited CBC.  The Chillicothe Constitution-Tribune, Wednesday, August 9, 1933