Some of the older published books and documents on Lester Dent refer to Bernard Dent's ranch at Pumpkin Buttes in Wyoming as the 4J.  This is confusing as the 4J Ranch was located much closer to Gillette, Wyoming and was established long before Bernard Dent ever came to the state. 
The National Register of Historic Places Registration Form for the Dent home in La Plata, Missouri includes a photograph of the  basement showing a shelf made to resemble the 4J brand.  The shelf design is an exact match for the 4J brand registered to George A. Keeline in the 1912 edition of the Official Brand Book of the State of Wyoming, page 141.

Keeline was a German immigrant who migrated from Iowa to Wyoming.  In 1888, Keeline and his sons bought the 4J brand.  Six years later, they had over a hundred cowboys working cattle and sheep over the region.  The 4J Ranch was created in 1896 when they acquired 160 acres of land south of Gillette, Wyoming at the head of Caballo Creek which was an important water source for the cattle.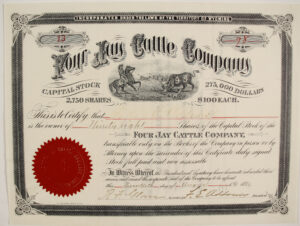 All this happened long before Bernard Dent came to Wyoming.  It seems more probable that Bernard Dent worked on the Keeline 4J Ranch and his association with it was romanticized over the years.  He could have named his ranch at Pumpkin Buttes the 4J, but it was only a nickname and not a brand he could register with the state.
The Bureau of Land Management records show no claims for land filed by Bernard Dent under the Timber Culture Act of 1873 or the Homestead Act of 1862.  It should be noted that claims by his brother-in-law, Bert Norfolk do appear in the records.  There is nothing to indicate Bernard Dent owned land in Wyoming. 
We have been told that Lester Dent did not like to talk about his time in Wyoming. 
Lester Dent seldom spoke about of his Wyoming days.  – from The Lonely Boy Who Dreamed by Will Murray.
Dent never talked about his childhood except to tell his wife that he was unexplainably lonely during those years, – from Lester Dent: The Man , His Craft, and His Market by M. Martin McCarcey-Laird.
Information on Dent' childhood is sketchy  He really didn't tell Norma much about it, except to say he had been terribly lonely, – from Bigger Than Life, The Creator of Doc Savage by Marilyn Cannaday.
Like so many of the stories surrounding Lester Dent's youth, the details are sometimes vague or don't match factual documents.  Researchers should be skeptical of anecdotal stories and depend on verifiable facts.