POLITICS
March 12, 1938 – Germany troops marched into Austria in a preliminary move to annex it to Germany.
---
Lester and Norma Dent set sail for Europe in April 1938. Dent's secretary,  Evelyn Coulson, accompanied them.  The inspiration for this trip may lie with Harold A. Davis.  On August 31, 1937, Harold Davis wrtte to Dent commenting on a Doc Savage story he is working on.  Davis wrote on Tuesday and comments that he will likely send out what he has finished on Thursday and mail the rest on Saturday. Davis urginges speed on Dent's part as he is sailing on September 25 for Europe.  Davis admits he needs the money to pay the balance on his Italian tour, due Monday, September 13. 
Source: WHMC Folder C3701_f6
---
TO SAIL FOR EUROPE
The Dents will be leaving for Europe on April 6 aboard the liner Queen Mary. Evelyn Coulson will be accompanying them. Dent plans to spend time in France, Switzerland, and London, England.
Source: La Plata Home Press (La Plata, Missouri), Thursday, March 31, 1938
In 1938, one British Pound was worth $4.98.
RMS Queen Mary had left Southampton on Saturday, March 30, 1938.  She arrived in New York City on Monday, April 4, 1938.  Two days later, the Dents were aboard bound for England.  RMS Queen Mary sailed from New York City a few minutes past midnight on Wednesday, April 6, 1938.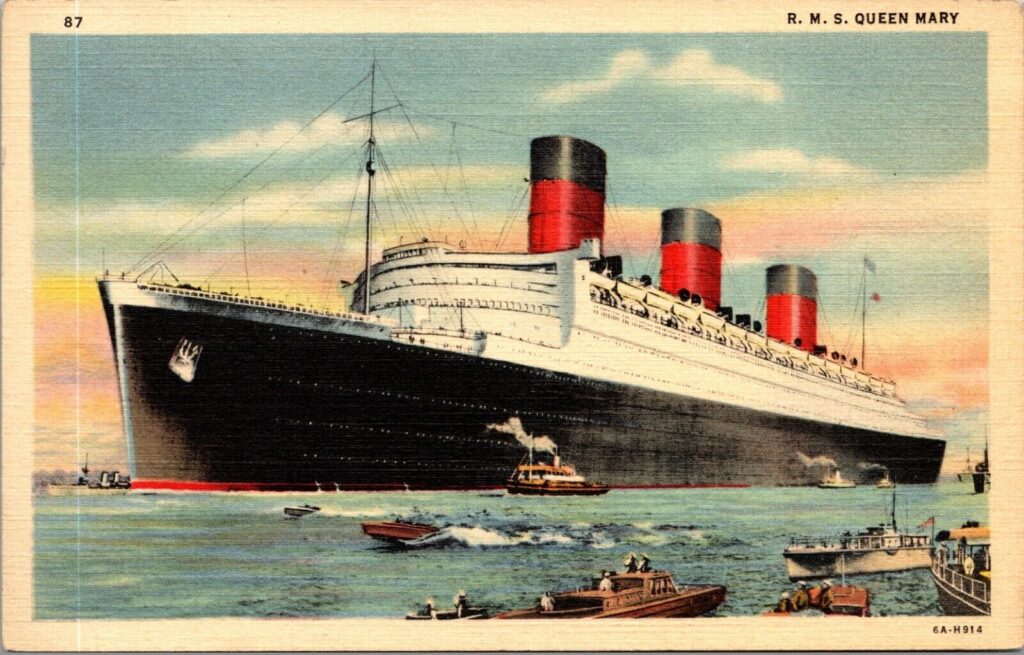 ---
POLITICS
On April 10, 1938, a national vote was overwhelmingly approved in Austria to become part of Germany.
---
The Queen Mary arrived in Plymouth, England on Monday, April 11, 1938. The ship passed the Eddystone at 8:20am. The vessel anchored off Penlee Point, Cawsand Bay, Plymouth, England at 9:00 am. At 11:00 am, the ship was cleared for departure to Cherbourg, France and Southampton, England.
Newspaper accounts reported the ship encountered a very strong storm at sea. The vessel took a more southerly route than it normally does for this time of the year. This was due to the early break up of the northern ice pack.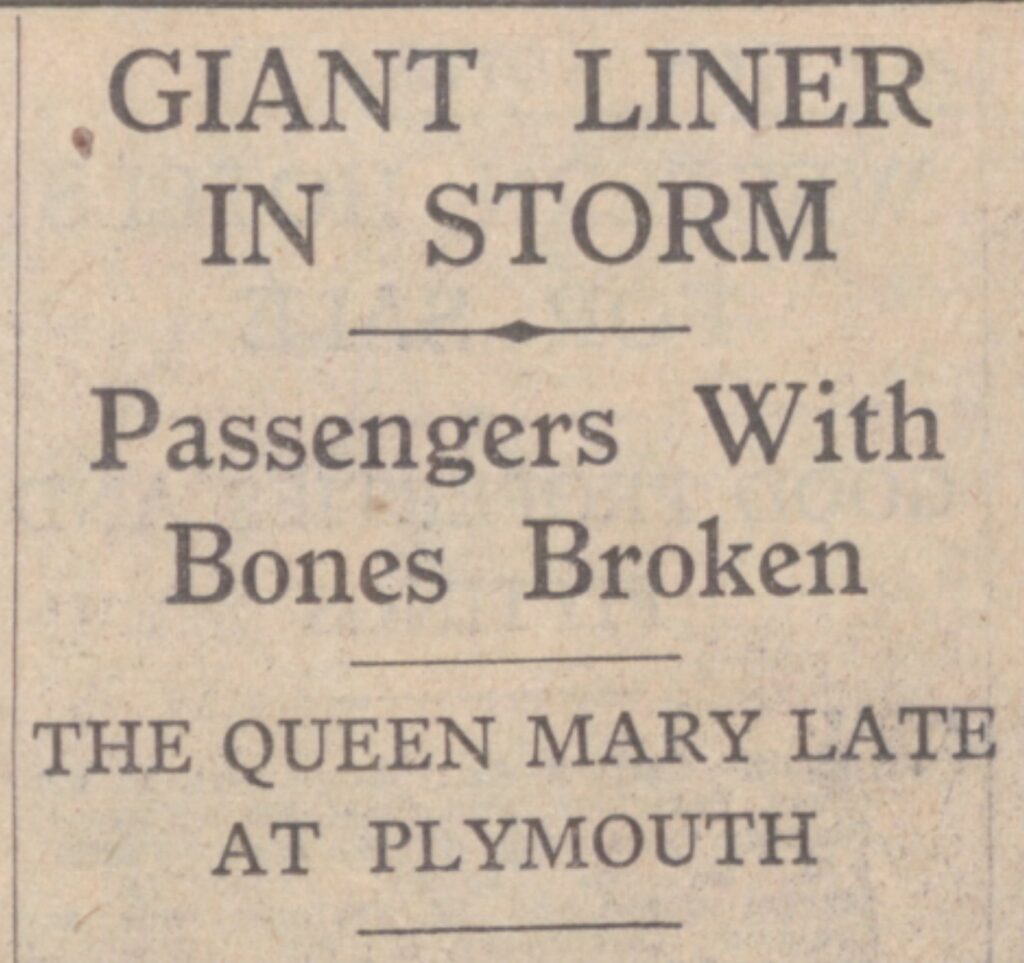 DENTS ON THE QUEEN MARY
The article notes that the crossing had some of the worst weather in recent years. The ship was a day late arriving in Plymouth, England as a result.
Source: La Plata Home Press (La Plata, Missouri), Thursday, April 14, 1938
LESTER DENT WRITES FROM GAY PAREE
Lester Dent authors a very long article on his travels in France. Several paragraphs are dedicated to the tragedy of the First World War and the current war-like political situation in Europe.
Some of the items he mentioned include:
The battle grounds at Chateau Thierry and Belleau Wood
Places that cannot be farmed due to unexploded ordnance.
360 dead men in one pit, unidentified because they were blown apart
In one place you can stand on a hill and see where a million men died.
The Trench of Bayonets
Many cemeteries filled with French and German graves
Air raid drills every Thursday in Paris.
American-made automobiles cost three times the price in the USA.
Wine is cheaper than bottled water.
Men's clothing prices comparable to back home.
Women's clothing prices much higher.
French people are very polite.
---
Queen Mary arrives in New York City – The Dents return to the United States on July 4, 1938.
Source: Queen Mary passenger list.
---
After their return to the United States on July 4, 1938, Lester Dent went to publish several articles in his hometown paper about their recent European travels.
---
LESTER DENT WRITES OF CZECHOSLOVAKIA TRIP
Dent writes about his experiences in Czechoslovakia He predicts the Czechs will fight the Germans if it comes to it.
Dent describes Prague as being more like Chicago with dirty buildings, street cars, and brusque people going about their business.
The Czech people are ready to fight the Germans.
Dent experienced some problems as he had four cameras in his baggage.
This brought a lot of attention from the military authorities.
The food is very greasy.
The police carry swords. Dent tried to take a picture of a policeman which was illegal.
Source: La Plata Home Press (La Plata, Missouri), Thursday, July 7, 1938; Macon Chronicle Herald, Tuesday, July 12, 1938
---
DENT WRITES AGAIN FROM AMSTERDAM
Dent writes about Switzerland, Germany, and Austria. He describes German and Austria as being militarized and has not kind words for Adolph Hitler.
Austria was a less civilized country than Dent expected.
Dent was not disappointed with his visit to Switzerland. It lived up to its reputation.
Dent remarks in passing that he had "seen the highest mountains in America and climbed some of them."
Dent notes that Austria was filled with men in uniform with portraits of Adolph Hitler in every store. Also, all the men wear swastikas in their buttonholes.
Dent notes that the soldiers he saw in Berlin reminded him of the World War posters.
Dent disapproves of Hitler, Mussolini, and Stalin.
Holland turned out to be a pleasant place and very prosperous.
Source: La Plata Home Press (La Plata, Missouri), Thursday, July 14, 1938
---
LESTER DENT SAYS PATRIOTISM IS STRENGHTENED BY EUROPEAN TRIP
The article is a lengthy interview with Lester Dent about his recent travels in Europe. It mostly repeats the information previously published about his trip. There are some interesting details about the different countries. Dent describes the situation as gloomy and noted the people generally had little humor. The article states the Dents plan to be in La Plata for some time.
Source: Macon Chronicle Herald, Tuesday, August 30, 1938
---
POLITICS
German troops marched into the Sudetenland region of Czechoslovakia on October 1, 1938.
---
Readers should note that the Dent party was not in Europe when Germany invaded Austria and later Czechoslovakia.