Of note to Doc Savage fans was his position with Conde Nast.  In 1959, Street & Smith merged with Conde Nast and were absorbed into the organization.  Paul Bonner, Jr. was a Conde Nast executive who dealt with licensing of the Street & Smith properties, in particular, the Doc Savage reprints by Bantam Books.  An examination of the many pulp-related reference books and fanzines from the time of the Doc Savage Bantam reprints and afterward will find the name of Paul Bonner printed within those periodicals with thanks for allowing the use of certain materials.  Paul Bonner appears to have been a very nice guy to the pulp magazine community.  Aside from that, he appears to have led a very interesting life.
Paul Hyde Bonner was born on May 12, 1918, in New York, his father, Paul Hyde Bonner, Sr., was 25 and his mother, Lilly Stehli Bonner, was 20.
His father, Paul Bonner, Sr. was self-employed as an insurance broker in 1917 when his draft card was issued. His military records showed that he sailed to France as a sergeant on March 29, 1918.  He was transferred to the military police and assigned to criminal investigation while serving at Bordeaux, France.  He received a commission as a second lieutenant on November 1, 1918, while continuing his investigative work.
The Bonner family appeared to be financially well off.  US Census records for 1930 showed that Bonner was an executive in the silk label industry.  He lived at 28 Bayville Road which was an expensive neighborhood.  The census listed Paul and Lilly Bonner along with their four boys.  The listing also included a tutor and six servants.
His obituary notice dated December 16, 1968, indicated he had worked for Stehli and Company, which was a silk weaving operation.  Records show that his father-in-law, Emil J. Stehli, was president of Stehli and Company at the time of his death in 1945.
Records for 1935 showed Paul Bonner, Jr. attending Phillips Exeter Academy in Exeter, New Hampshire.  Bonner appeared on the 1940 US Census living in Los Angeles, California.  He was employed as a publicity agent for a movie studio.
Bonner next appeared in an article in The Portsmouth Herald dated March 31, 1941.  He was attending the University of New Hampshire and studying mathematics.  (He was probably studying trigonometry.) The article stated he hoped to enter the army air corps as a bombardier or navigator.   He enlisted in the United States Army on September 29 and as an air cadet.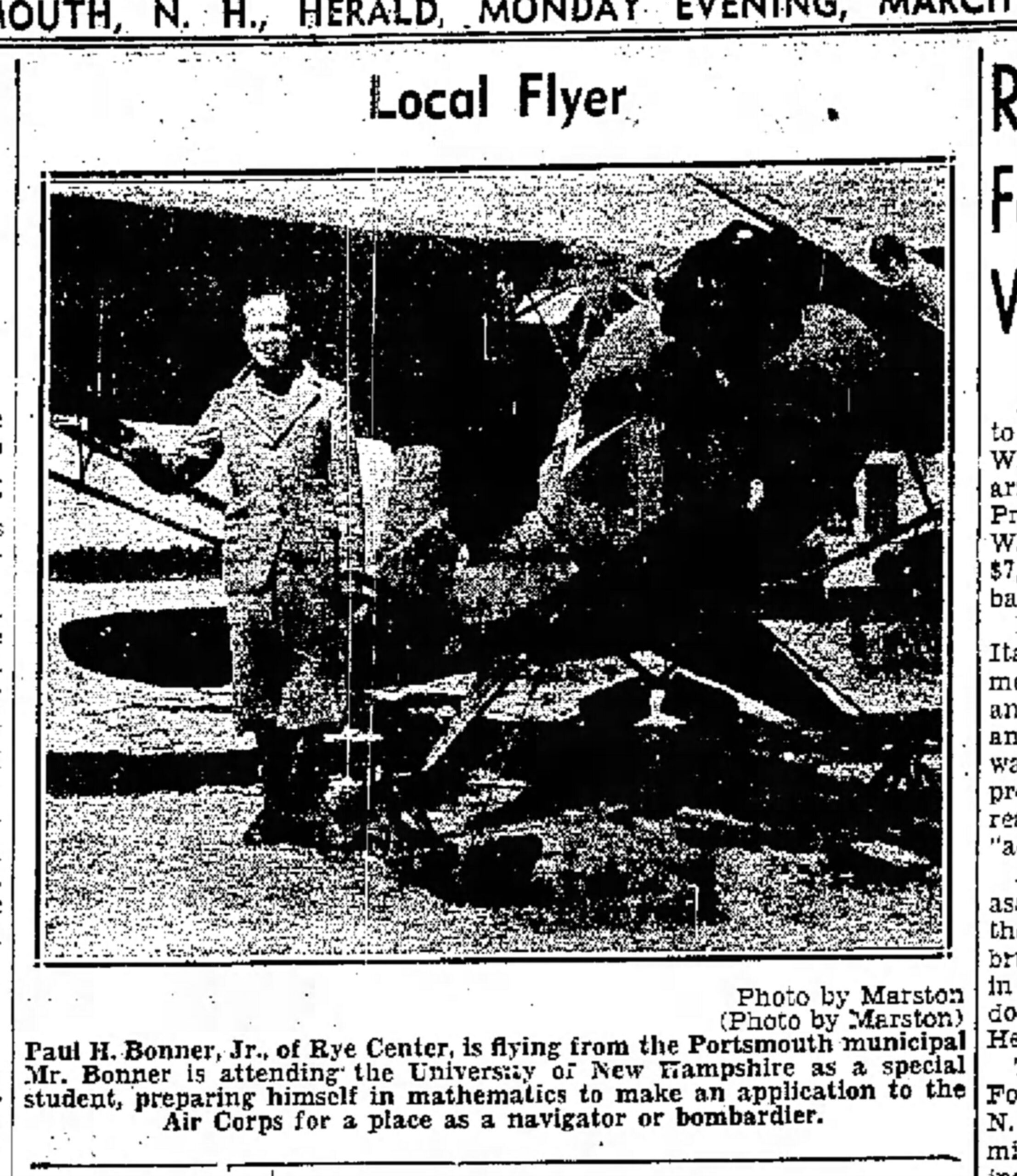 The Portsmouth Herald printed a lengthy article in the June 23, 1943, edition titled Father, 3 Sons, Go to War.  Paul Bonner, Sr. was a Lt. Colonel in the army.  Henry Bonner was an army private who was recently cited for bravery in Tunisia.  Paul H. Bonner, Jr. and his brother John T. Bonner were both lieutenants in the air corp.  The story noted that Paul Bonner, Jr. was serving as a glider pilot.
Paul Bonner, Jr. next showed up in a local newspaper article dated July 5, 1945.  He was at home on inactive service.  The story noted he was a graduate of Harvard University.  His named appeared again in another elaborate article dated July 11, 1945.  The article stated he had married a girl he had long known from Boston who was serving in the Red Cross in Europe. Paul Bonner and Charlotte Rantoul were married last year in Italy. 
Bonner talked about piloting troops in his glider during the Sicilian campaign.  Afterwards he was transferred back to England in preparation for the invasion of Europe.  He finally made it to Europe during Operation Market-Garden.  The first allied troops had already landed near Nijmegen Bridge in Holland when his glider landed under intense anti-aircraft fire.  Bonner noted that after landing, they watched thousands of paratroopers jumping from planes all around them.  Bonner received the Distinguished Flying Cross for his services in the operation.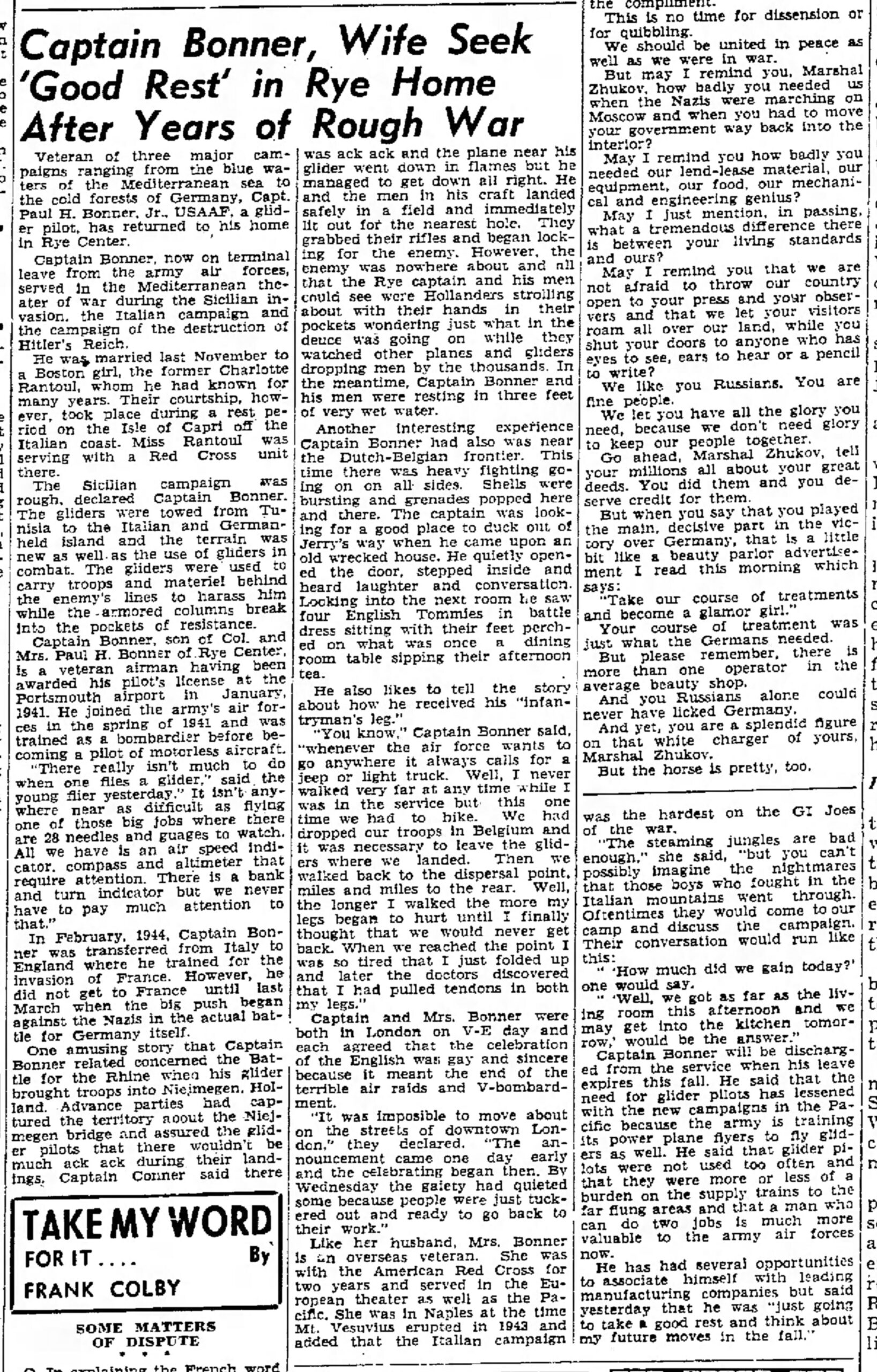 Paul Bonner and Charlotte Rantoul Bonner eventually divorced.  He married Louise Baird Thornton in 1965.
The 1975 engagement announcement for his son, Paul Augustus Bonner to Lisbeth Corine Hall noted that Paul Bonner, Jr. was the book division director for Conde Nast.
Paul Hyde Bonner died on May 29, 1989, in New York when he was 71 years old.  He was buried in Floyd-Jones Cemetery at Massapequa, New York.