Joseph Allan Elphinstone Dunn was born January 21, 1872 in London, England.  His parents were Joseph Hexworth Dunn and Elizabeth Holdsworth Miall.
The 1910 United States Census lists 1893 as the year Dunn immigrated to the United States.
The 1893 Denver City Directory lists Allan Dunn as working for the Carline Engraving Company.  He rooms at the St. Johns Club.
The 1896 Denver City Directory lists Allan Dunn as working for the Williamson-Haffner Engraving Company.
The 1897 Denver City Directory lists Allan Dunn as Art Director for Chapin Publishing Company.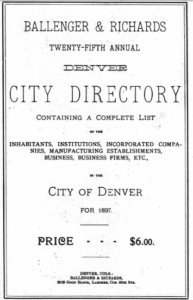 The October 26, 1898 issue of The Anaconda Standard indicates Allan Dunn was with Miss Jane Waldorf and Company in Anaconda, Montana for a performance of Romeo and Juliet tomorrow evening.
The December 18, 1898 issue of The Los Angeles Times reported on the local theater scene and mentioned Allan Dunn as a well-known person.  Subsequent editions praise him for his acting ability.
The April 24, 1899 edition of The Hawaiian Star gave a good review to Janet Waldorf and company's opening performance of Shakespeare.  The article mentions Allan Dunn who played the part of Sir Andrew Aguecheek.
The July 7, 1899 issue of The Hawaiian Gazette carried an article on Allan Dunn.  It states he came to the islands with Janet Waldorf and her theatrical company.  Allan Dunn has decided to remain on the island and will be working as a pressman for Franklin Austin's new paper.  The article remarks that Dunn was one of the first newspapermen in Denver, Colorado and that he has also worked for English newspapers.  It is noted that when Dunn worked for the Rocky Mountain News he signed his work as "A. D."  The article notes that Dunn left newspaper work because of an eye injury and moved into the theatrical business.  It is also noted that he has good artistic ability.
The July 29, 1899 edition of Austin's Hawaiian Weekly lists Allan Dunn as City Editor and Artist.
Austin's Hawaiian Weekly, October 14, 1899, carried details of the meeting of the Austin Publishing Company, LTD.  Allen Dunn was elected Auditor.  The meeting was help on September 20.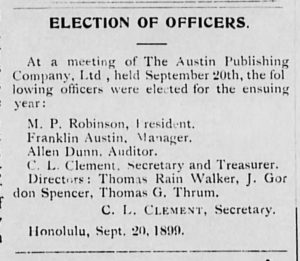 Dunn married Grace K Buchanan in Honolulu in the Hawaiian Territory on December 15, 1900.  The card lists that Dunn received a B. A. from Winchester  New College, Oxford, England. (California, Biographical Index Cards, 1781-1990)         
The September 18, 1904 issue of the San Francisco Chronicle reported that Mrs. Allan Dunn of Hawaii has arrived.  Her husband is to join her later.
BARONIAL FORTUNE FALLS IN PART ON ALLAN BROWN – The article states that Allan Dunn will come into an inheritance valued at 6,000 pounds.  The bulk of the estate from his father, Joseph Hepworth Dunn,  went to his elder brother, William James Dunn of Dunnscombe, Devon in England.  Source: The Hawaiian Gazette,March 22, 1904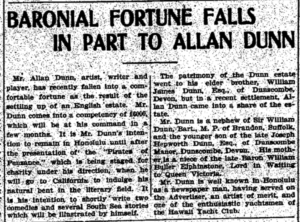 The October 27, 1904 issue of The Honolulu Advertiser carries a small article titled Allan Dunn a War Correspondent.  The article stated that Allan Dunn was the photographer for Colliers covering the Sino-Japanese War.  It stated that Allan Dunn arrived in San Francisco aboard the SS China.  Note:  The photographer for Colliers was Robert L. Dunn. His work was published in a 1905 volume titled Collier's Photographic Record of the Russo-Japanese War.  
Mr. and Mrs. Allan Dunn were some of the guests at a Sunday reception given by Charles H. Lombard at his home (The San Francisco Call, March 28, 1905).  The Dunn's were guests at several other social events throughout 1905.
The San Francisco Call reported on July 19, 1905 that Allan Dunn was back after a visit to the Portland Exposition.
The September 16, 1905 edition of the Oakland Tribune carried an article on the activities of the Bohemian Club.  Allan Dunn was one of the members in attendance.
The San Francisco Call reported on April 27, 1907 in an article titled The Sailing of the Snark that the May issue of Sunset Magazine had a description of Jack London's cruise by Allan Dunn.  This issue also has a separate article on the play, Lady Windmere's Fan in which Allan Dunn has a prominent part.  Dunn and London went on to become friends and visited socially.
The June 28, 1908 edition of the Oakland Tribune carried an article on Allan Dunn's birthday party.  Dunn's home address is reported as 1414 ½ Seventeenth Street.  Dunn's age is reported as being 28 years old.  (Based on his reported birth date in the 1910 United States Census of 1872, Dunn is 36 years old.)
The January 28, 1909 edition of the San Francisco Chronicle reported an attempted burglary at Allan Dunn's home at 2002 Hyde Street.
The 1910 United States Census dated April 24, 1910 lists Dunn's residence at 2004 Hyde Street in San Francisco, California.  Dunn is listed as a naturalized citizen.  He is employed by the Southern Pacific Railroad as a secretary.  Dunn's age is 30. His wife, Grace K. is listed as 30 years old.
The July 24, 1910 edition of the Oakland Tribune carried an article that mentioned Allan Dunn was a member of the Bohemian Club and the San Francisco Stage Society.
There is an endless parade of articles citing Allan Dunn and social activities all the way up until his fall in 1913.  Dunn became the frequent subject of newspapers articles in that year, but it was not a good thing.  He had been caught stealing from his friends.  The San Francisco Call, June 20, 1913 printed a damning article.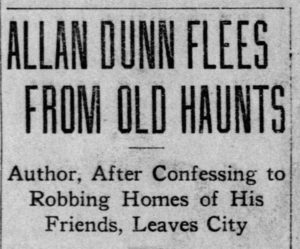 The issue came to a head when a person came to Berkley Chief of Police Vollmer about a missing brooch.  The person was concerned that it thought he stole the item and wanted to resolve the issue and prove his innocence.  Vollmer traced the missing jewelry to a pawn shop and then to Dunn who confessed to the theft.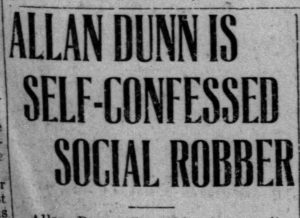 The November 25, 1913 edition of the Oakland Tribune carried an article, ALLAN DUNN RETURNS HOME BUT WILL LEAVE AGAIN.  In the story, Mrs. G. K. Dunn states that her husband has returned but plans to move to another city and start over.  It is mentioned that she and her husband were estranged before his thefts were exposed.  She stated that she intends to remain in San Francisco.
In 1913, Dunn divorced Grace K. Buchanan and married Gladys Courvoisier or so many people thought that the case.  The August 13, 1918 edition of the Oakland Tribune carried an article on the divorce of Allan Dunn and his wife, Grace K. Dunn.  The article revealed that the issue never came to trial and the couple are still legally married.  This subject came up as a result of Allan Dunn's "wife," Gladys Courvoisier shooting and killing their son at their home in Lenox, Massachusetts.  The child, J. Allan Dunn, Jr., was two-years old.  The incident was described as a murder-suicide attempt.
The Boston Globe reported in the October 28, 1918 issue that Gladys Dunn, wife of Allan Dunn, had been charged with manslaughter.  She was being held at the Northamption Hospital for the Insane.
Gladys Dunn plead guilty to manslaughter at her trial on July 28, 1919 (Parsons Daily Eclipse). She was sentenced to one year of hard labor at corrections facility in Pittsfield.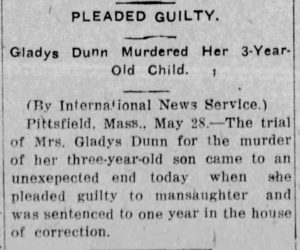 The July 29, 1919 edition of The Boston Globe printed a detailed article on J. Allan Dunn and Mrs. Gladys Dunn.  Her father is a wealthy art dealer in San Francisco. Her marriage to Dunn is her third, her name being listed as Gladys Courvoisier-Madden-Lafler-Dunn in the paper.  J. Allan Dunn is described as being Irish and whose family is rich. He came to America when he was age 21.  His other accomplishments include rancher, artist, editor, newspaperman, advertising manager for the Southern Pacific Railroad, and personal friend of Jack London.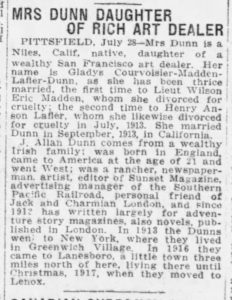 The 1920 United States Census, dated January 5, 1920, lists Dunn's residence at 14 Broad Street, Pittsburgh, Massachusetts. He is 47 years old and lists his occupation as author/novelist.  His wife, Gladys Dunn is listed living at the same address.
The 1925 New York Census, dated July 1, 1925, shows Dunn living in Pawling, New York.  His occupation is author and he is 53 years old.  His wife, Gladys C. Dunn is 37 years old.
Dunn separated from his wife Gladys in 1926.
Allan Dunn was scheduled to appear with Phil Lord as the Three Minute Guest. This is a return visit for Dunn who will discuss the South Seas, cannibals, and witch doctors. (The St. Louis Star and Times, Tuesday, June 16, 1939)
Lester Dent was approved for membership in The Explorers Club in New York City on November 9, 1936.  One of his sponsors was J. Allan Dunn who wrote a glowing recommendation of Dent dated May 26, 1936.
The Des Moines Tribune reported on August 26, 1936 that J. Allan Dunn may marry his partner (agent), Loyola Sanford.
Dunn married Loyola Lee Sanford on October 30, 1936 in Manhattan, New York. (New York, Extracted Marriage Index, 1866-1937)
The April 11, 1937 edition of The Brooklyn Daily Eagle carried an article on the annual spring luncheon of the Theatre Assembly.  A list of notable speakers followed including Dr. Vilhjalmur Stefansson, president of the Explorers Club and Major J. Allan Dunn.
The April 18, 1937 edition of the El Paso Times carried an article by Lowell Thomas.  The article is biographical in nature and lays out a timeline of Dunn's adventures. Thomas refers to Dunn as "Major J. Allan Dunn."  He has a B. A. from New College Oxford, fought in the Boer War, was a war correspondent in the Spanish-American War, Master of a barkentine, Laughing Lady, and sailed the south Pacific.  Note:  The First Boer War was December 18, 1880 until March 23, 1881.  The Second Boer War was October 11, 1899 through May 31, 1902.  The Spanish-American War was April 21, 1898 through August 13, 1898.
The June 26, 1939 issue of The Brooklyn Eagle carried an article on polar explorers who will be visiting the World of Tomorrow exhibit.  Major J. Allan Dunn is listed as a director of the Explorers Club.
Allan Dunn died in Columbus Hospital, New York on March 25, 1941. His address was listed as 81 Irving Place. The obituary stated that he covered the Spanish-American War as well as the Russo-Japanese War and was a prolific writer.  Note: The Russo-Japanese War was from February 8, 1904 through September 5, 1905.
There is no doubt that J. Allan Dunn was a popular and prolific writer.  Above all things, he was an enormously successful self-promoter.  However, the other claims to fame such as war correspondent, rancher, military service, and sailing the South Seas appear to be fiction rather than facts.