Doc Savage's signature trilling has been a part of the series since before the very first published issue. "Doc Savage, Supreme Adventurer" written by future Doc Savage editor John Nanovic based on input from Street & Smith executive Henry K. Ralston included the trilling as part of the story. It was consistently present in the first seventy-seven issues except for "The Spook Legion" which was published in April 1935.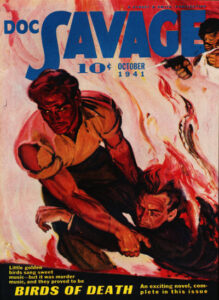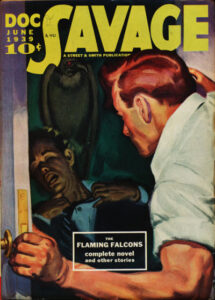 Starting with "The Flaming Falcons" in June 1939 and ending with "Birds of Death" in October 1941, there were thirteen stories published that did not include the signature trilling sound by Doc Savage.
Jun-1939 – "The Flaming Falcons"
Aug-1939 – "The Crimson Serpent" – Manuscript outline only (Harold Davis)
Sep-1939 – "Poison Island"
Dec-1939 – "The Dagger In the Sky"
Jan-1940 – "The Other World"
Feb-1940 – "The Angry Ghost" (William Bogart)
Mar-1940 – "The Spotted Men" – Manuscript outline only (William Bogart)
Apr-1940 – "The Evil Gnome"
May-1940 – "The Boss of Terror"
Nov-1940 – "The Awful Dynasty" – Manuscript not received (William Bogart)
Feb-1941 – "Bequest of Evil" – Manuscript not received (William Bogart)
Apr-1941 – "The Golden Man"
Oct-1941 – "Birds of Death"
Over a period in which these twenty-nine stories were printed, only thirteen failed to refer to trilling. Additionally, of those thirteen stories, four of them are missing the Manuscript from the Lester Dent collection at the University of Missouri located in Columbia, Missouri. These four stories are by Harold A. Davis or William G. Bogart. Without the manuscript, it is impossible to know if the trilling was omitted by the author or the editor.
If we take away the four without a manuscript, then there are only nine stories without trilling for this period of twenty-nine stories. Whether we count thirteen or nine stories that edited out the trilling is immaterial. The count does not indicate a very concerted effort by the editorial staff to purge this trait from the stories as more than half the stories included the trilling.
The trilling continued with the November 1941 story, "The Invisible Box Murders," for another twenty issues before once again disappearing. The next story that omitted the trilling was "Mystery on Happy Bones" from July 1943. The omissions became the norm starting in October 1943 and lasted until the series ended fifty-four issues later. During this period only six issues portrayed the trilling with forty-eight issues omitting it. The final tally shows 117 issues with trilling and sixty-four without. "The Red Spider" which was never published in the pulp series includes the trilling. The last story to include trilling was the Spring 1949 issue featuring "Return from Cormoral." The next and final issue, "Up From Earth's Center" (Summer 1949) omitted the trilling.
Doc Savage's trilling sound was not restricted to the pulp magazine stories. It was also part of the radio show.