Readers may not have noticed that "The Mystic Mullah" was the literary parent of "The Majii."  The latter was published in September 1935, a scant eight months after the January issue of Doc Savage featured "The Mystic Mullah."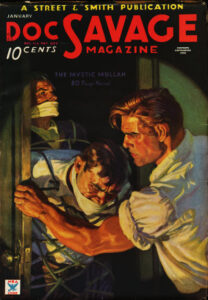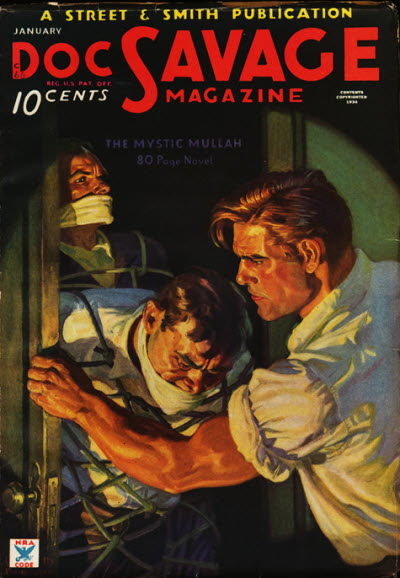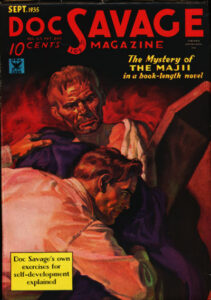 In both stories the villain is the hereditary leader of a small remote Asiatic city-state.
Both the Mystic Mullah and the Majii are mythical ancient beings.
Joan Lyndell and the Nizam are reputed to be the wealthiest person in the world.
A gas is used in both stories.  The streamers of vapor in the Temple Nava are suggestive of the green slaves of the Mystic Mullah.
The gang flees New York in stolen aircraft in order to bring the battle to their home territory.
Joan Lyndell is hypnotized into becoming a human spider.  Rama Tura uses hypnotism to greater effect in his story.
Oscar Gibson is an agent of the OGPU.  Rama Tura pretends to be a  British secret agent
The goal is to establish a vast new empire.
In both stories the gas gets the villain in the end.
"The Mystic Mullah" also picks up a few tidbits from an earlier Doc Savage story, "The Thousand-Headed Man" which was published in July 1934.  The green souls are comparable to the spitting cobras seen six months earlier.  Both stories reference torture by putting burning coals on the victim's chest.