The final issue of Doc Savage Magazine dated Summer 1949 was published on June 7, 1949. It marked the 181st adventure story of the man of bronze. Doc Savage had been going for over sixteen years since the first issue, "The Man of Bronze" hit the newsstands on February 17, 1933. The next time a buyer in the United States would see a Doc Savage story on the newsstands was when  Bantam Books released a paperback version of "The Man of Bronze" in October 1964.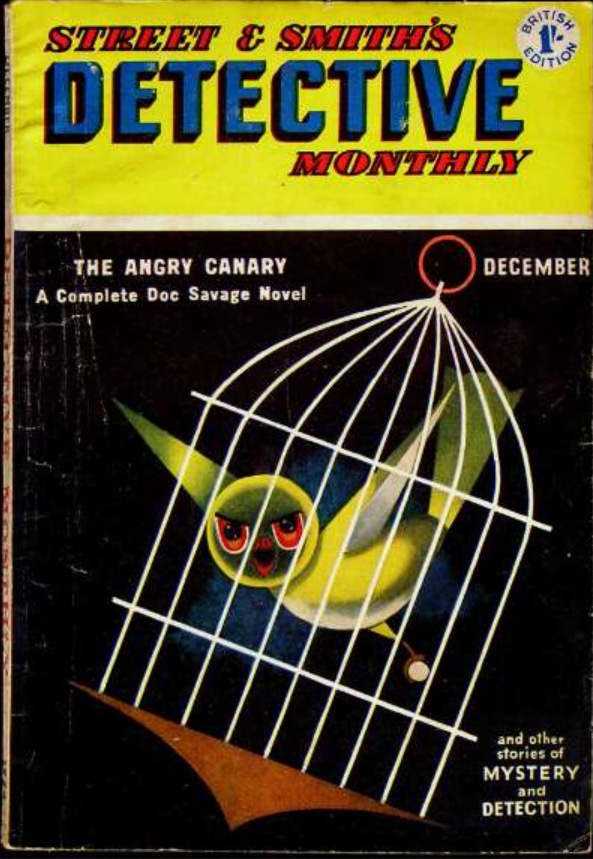 That date marked the end of a fifteen-year long drought for Doc Savage readers in the United States. However, that was not the case for readers in the United Kingdom. Conde Nast had purchased Street & Smith in 1949. The remaining pulp properties were all shuttered. Interestingly, Conde Nast began publishing a foreign edition of Doc Savage for sale in Britain. The magazine was titled "Street & Smith's Detective Monthly" with the first issue dated December 1954. The front page states the next issue will be on sale December 20 indicating the "December" issue actually came out a month earlier.
The new magazine published on a monthly basis. The 45th and final issue was published in August 1958.
---
Issue                     Cover                                   Title
---
v1 #1     –             Dec 1954              –             The Angry Canary
---
v1 #2     –             Jan 1955               –             Death in Little Houses
---
v1 #3     –             Feb 1955              –             The Wee Ones
---
v1 #4     –             Mar 1955             –             The Death Lady
---
v1 #5     –             Apr 1955              –             Rock Sinister
---
v1 #6     –             May 1955             –             The Disappearing Lady
---
v1 #7     –             Jun 1955               –             Danger Lies East
---
v1 #8     –             Jul 1955                –             I Died Yesterday
---
v1 #9     –             Aug 1955              –             The Coffin Cult
---
v1 #10   –             Sep 1955              –             Fire and Ice
---
v1 #11   –             Oct 1955               –             The Devil is Jones
---
v1 #12   –             Nov 1955              –             Once Over Lightly
---
v2 #1     –             Dec 1955              –             The Green Master
---
v2 #2     –             Jan 1956               –             The Swooning Lady
---
v2 #3     –             Feb 1956              –             Up From Earth's Center
---
v2 #4     –             Mar 1956             –             The Pure Evil
                   Some US covers were retitled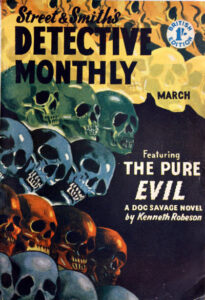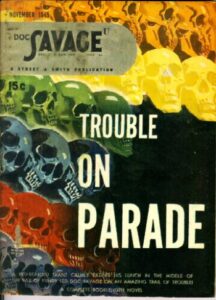 ---
v2 #5     –             Apr 1956              –             Weird Valley
---
v2 #6     –             May 1956             –             Satan Black COVER
---
v2 #7     –             Jun 1956               –             King Joe Cay
---
v2 #8     –             Jul 1956                –             Death is a Round Black Spot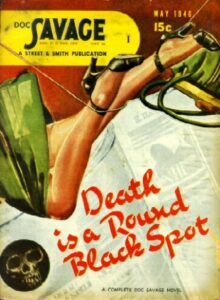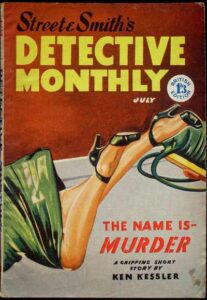 ---
v2 #9     –             Aug 1956              –             The Shape of Terror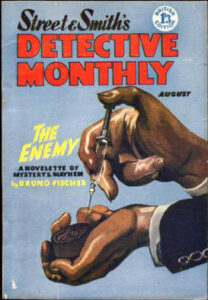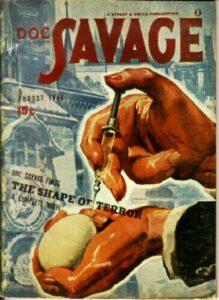 ---
v2 #10   –             Sep 1956              –             Three Times a Corpse
---
v2 #11   –             Oct 1956               –             Terror Takes 7
---
v2 #12   –             Nov 1956              –             Let's Kill Ames
---
v3 #1     –             Dec 1956              –             Colors for Murder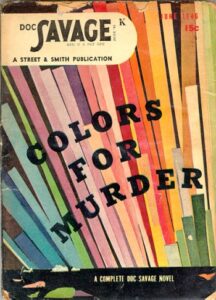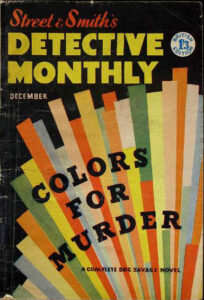 ---
v3 #2     –             Jan 1957               –             Measures for a Coffin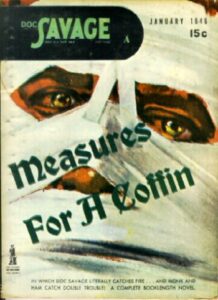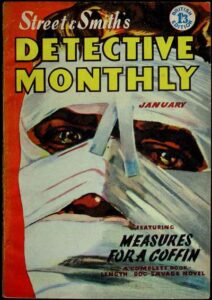 ---
v3 #3     –             Feb 1957              –             missing
---
v3 #4     –             Mar 1957             –             The Pharaoh's Ghost
---
v3 #5     –             Apr 1957              –             —
---
v3 #6     –             May 1957             –             Violent Night COVER
---
v3 #7     –             Jun 1957               –             Terror and the Lonely Widow
---
v3 #8     –             Jul 1957                –             Cargo Unknown
---
v3 #9     –             Aug 1957              –             —
---
v3 #10   –             Sep 1957              –             —
---
v3 #11   –             Oct 1957               –             —
---
v3 #12   –             Nov 1957              –             —
---
v4 #1     –             Dec 1957              –             —
---
v4 #2     –             Jan 1958               –             —
---
v4 #3     –             Feb 1958              –             —
---
v4 #4     –             Mar 1958             –             —
---
v4 #5     –             Apr 1958              –             —
---
v4 #6     –             May 1958             –             —
---
v4 #7     –             Jun 1958               –             —
---
v4 #8     –             Jul 1958                –             —
---
v4 #9     –             Aug 1958              –             —
---