The subject of "The Doc Savage Supply Company" came up recently on the Flearun discussion group over on Facebook. Member Michael Spitzer brought it up and ended up calling the location in Albuquerque, New Mexico and asking some questions. The folks there did not have much to say. The original owner had sold the store some point far in the past and little was known about that person. The local legend said that he had been a medic in World War II and was a Doc Savage fan. The worker stated that some original pulp magazines, framed and mounted, were displayed on the central office wall.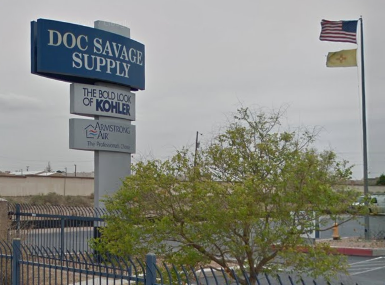 I had searched on this item in the past a few times with zero results. After Michael's post, I logged onto the Newspapers.com site and did a search on "Doc Savage Supply." The earliest hits were from 1961 in The Amarillo-Globe Times in Amarillo, Texas. The November 6, 1961, issue showed a Doc Savage Supply bowling team on the sports section. The team came in second place. I kept pulling on that thread and eventually found some phone numbers. I called the first number and left a message. I called a few more that looked hopeful but were dead ends.
This got me thinking about Texas as the original location, so I did some more searching. I found an address in Amarillo and a name that showed an association with Doc Savage Supply. I went to the Ancestry genealogy site and started creating a family tree. The first one did pan out, so I created a second one for another name that came up during the searched. This name was Walter Savage. That sent a little tingle down my spine. If there was ever a suitable candidate based on a name, this was it! (It turned out that my first choice was not so bad as this was one of Walter's daughters. The married name threw me off.)
In the middle of this searching, I received a text message telling me call Doc Savage Supply in Oklahoma City and ask for Monty Savage. I called and talked to the person who answered the phone. Monty was busy so I left my name and phone number.
The link below takes you to the webpage for the Doc Savage Irrigation Supply Company in Oklahoma City, Oklahoma.  The ABOUT US page has some history on the company.
Doc Savage Irrigation Supply Company
Meanwhile, the Ancestry search engine was producing exciting results. One of the first documents found was Walter Savage's draft card dated June 30, 1942, listing him as living in Fort Worth, Texas and working for Montgomery Ward. It showed that Walter Edwin Savage was born October 12, 1922, in Dorchester, Texas.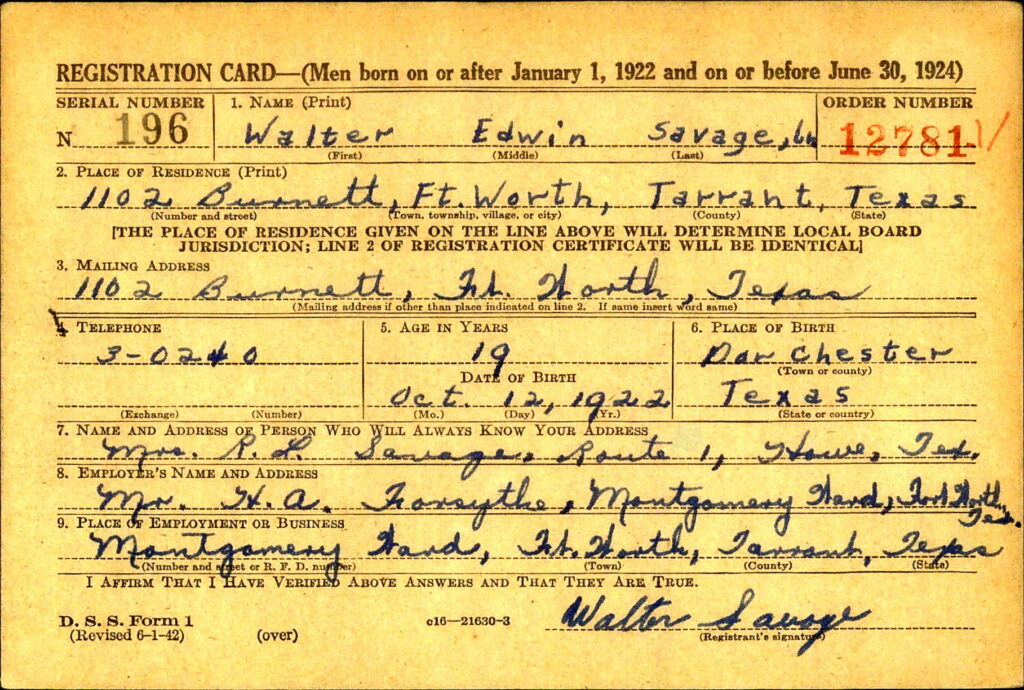 Notice Walter's birthday! That is the same day as Lester Dent. What a coincidence!
Additional searching produced results in a couple of school yearbooks. Walter appeared in the Denison High School yearbook for the years 1939-1941.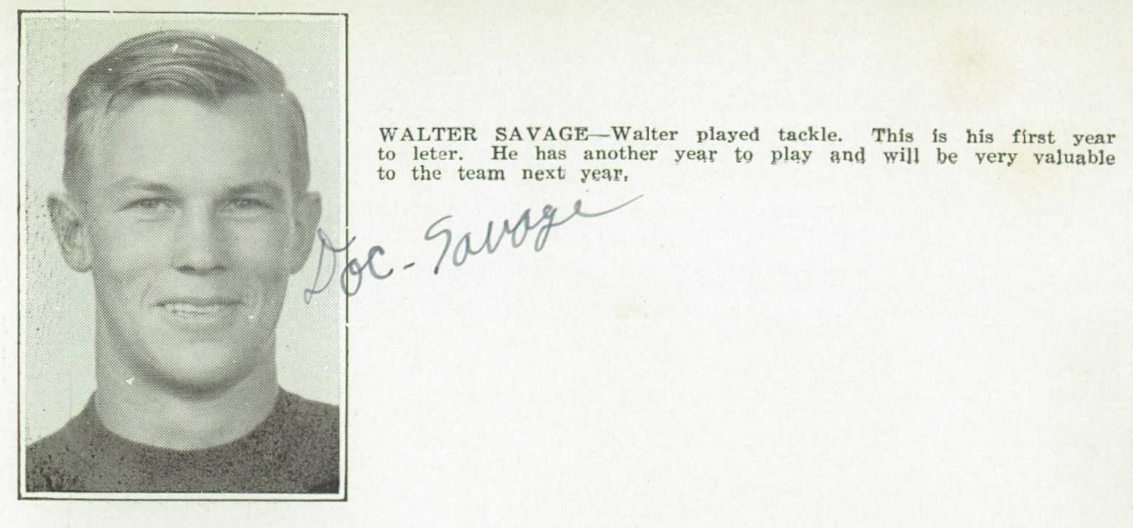 Walter played football and basketball.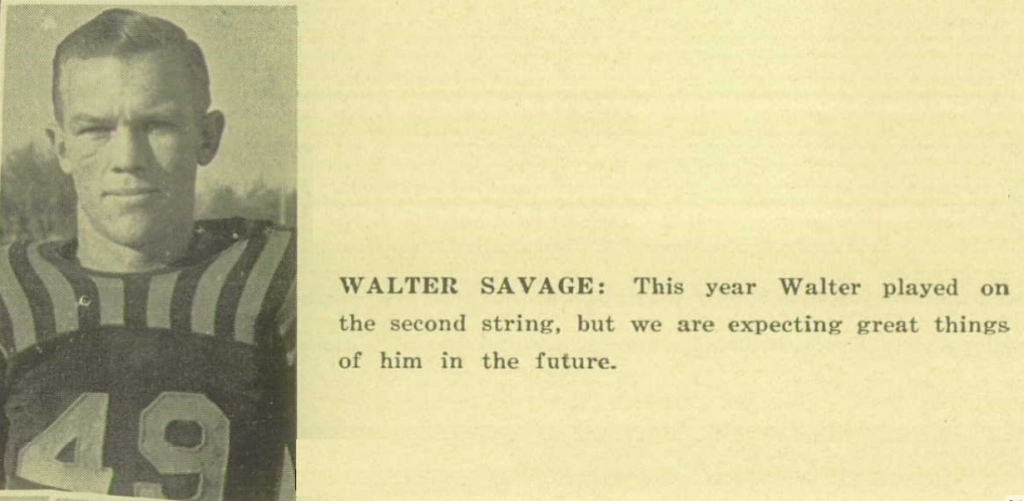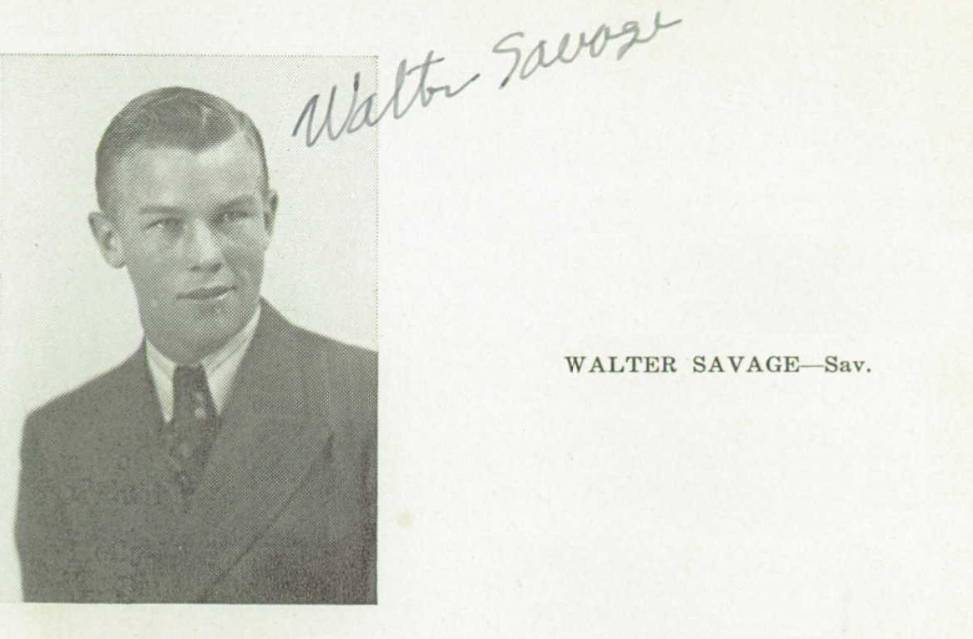 On October 12, 1942, Walter Savage and Madolyn Lee Harrison applied for a marriage license at Durant, Oklahoma. They were married the same day by a Reverend S. M. Shirley in the Church of Christ in Durant. Billy Joe Savage and James Perry, both of Fort Worth, Texas are listed as witnesses.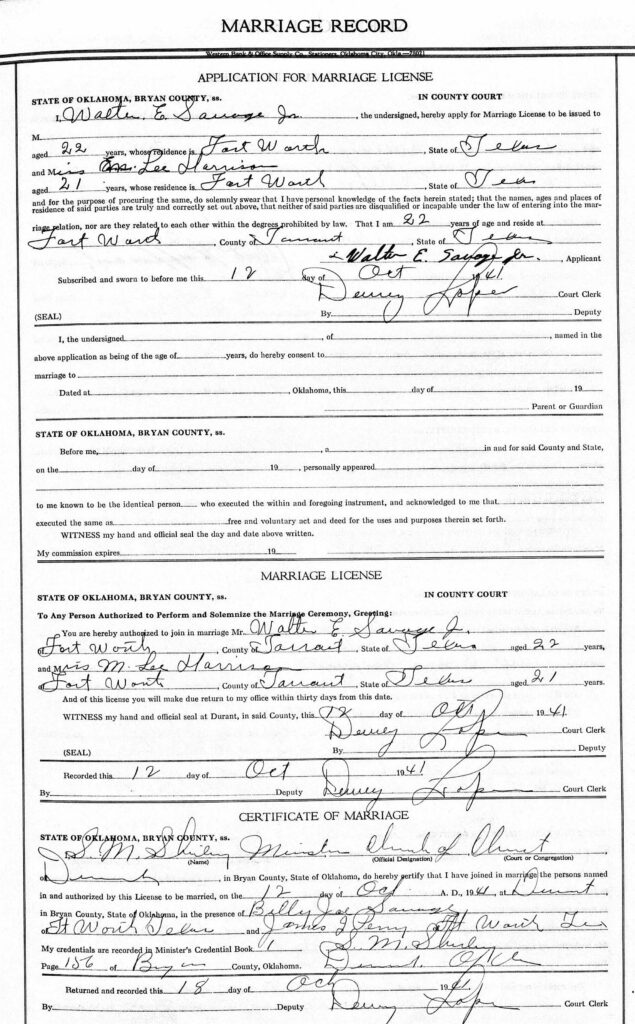 The Ancestry site also had multiple years of the Amarillo City Directory.
The 1945 directory does not list Walter, but it does show Mrs. Madolyn Savage rooming at 2502 Harrison. She is working as a stenographer for the City Gas Company.
The 1948 edition shows Walter working in the hardware department of Montgomery Ward. Madolyn L. appears as his wife, and they live in Apartment 2 at 1005 Monroe Street.
The 1949 edition lists Walter working at the Hogan-Hamilton Supply. The couple lives at 1122 South Johnson.
The 1951-1959 edition shows Walter working for the Hogan-Hamilton Supply as a salesman. The family address is 4115 Lipscomb.
In 1954, the business name changes to Charles Hogan Plumbing Supply.
In 1955, Walter is listed as manager.
In 1957, the home address changes to 1302 West Thirteenth Avenue.
The 1959 edition was the last to list Walter working at Charles Hogan Plumbing Supply.
The 1960 edition shows the same information except for the employer. Walter is president of Doc Savage Supply Company, Max Katz is vice-president, and Madolyn Savage is secretary-treasurer.
Around 2pm, I got a call from Monty Savage. He was able to clarify several things. He confirmed that his father was indeed a Doc Savage fan and that was the source of his nickname. Monty said his father was a military policeman during World War II and also a gunnery instructor for B-24 bomber tail gunners.  Monty also provided some interesting details on Walter's brothers.
Walter Savage's brothers were also remarkably interesting. The Fort Worth Star Telegram printed an article on Monday, December 4, 1944, about a naval aviator from Texas. Lt. Jimmy E. Savage was flying a Grumman Hellcat from a carrier in the Pacific Theater. He had confirmed kills for seven Japanese Zero fighters and one probable. He had also destroyed fourteen grounded enemy aircraft. The article noted that Major Francis E. Savage was a pilot on a staff transport aircraft in the Pacific. Walter is mentioned as serving at the Air Corp unit in Amarillo with the rank of Pfc.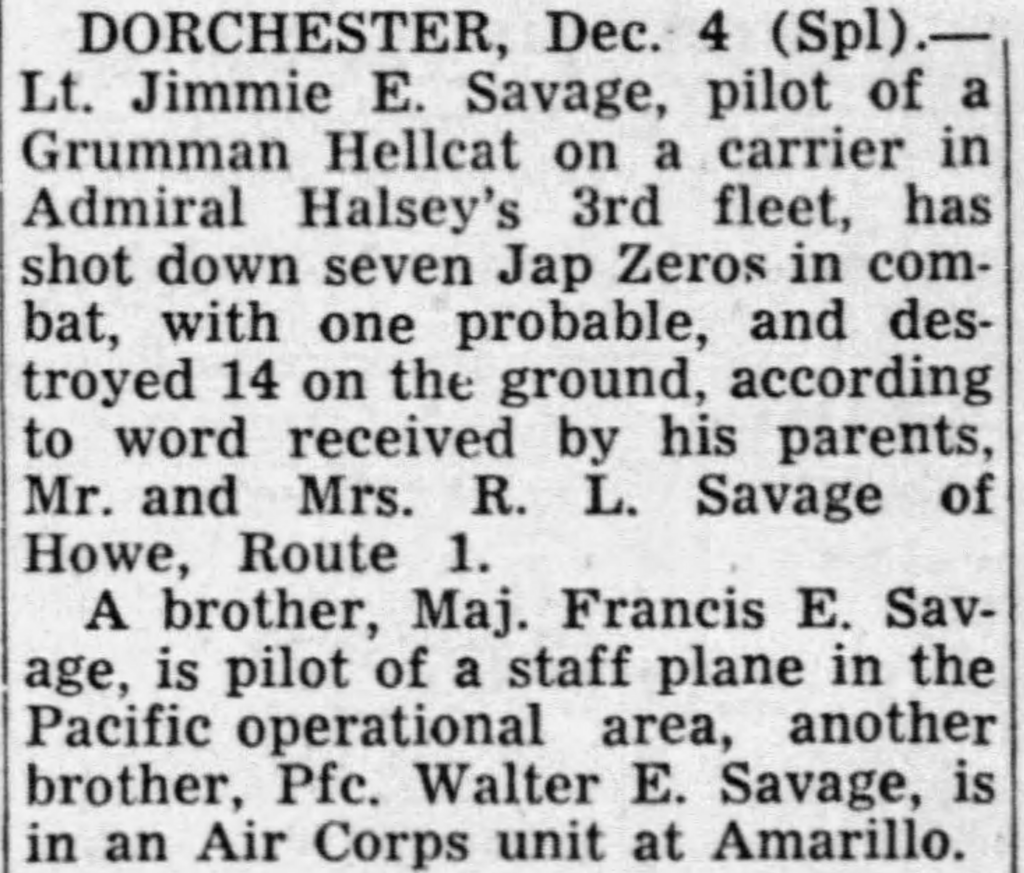 Major Francis Savage's name appeared in the paper in the March 3, 1945, edition of the Denton Record Chronicle. Savage was the pilot of a plane carrying Lieut. General Millard F. Harmon and some other high-ranking officers from Guam to Washington, DC. The aircraft flight plan included stops at Kwajalein Atoll and the Hawaiian Islands. The plane left Kwajalein on schedule on February 25, 1944, but never made it to Hawaii. The missing men were declared dead after one year.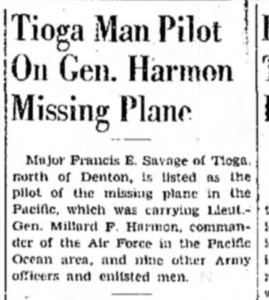 Walter Savage died unexpectedly of a heart attack on September 17, 1967. Walter's widow, Madolyn, took of the management of the firm until her retirement in 1987. At that time, the store in Albuquerque was sold to the manager. I asked Monty about the Doc Savage magazines in the central office in Albuquerque. He said he had been to that location several times and those magazines were not in place at that time.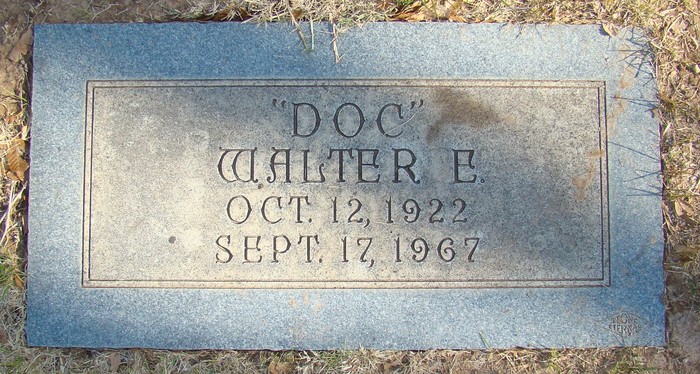 It was a real pleasure talking to Monty. He was very friendly and talked freely about his father and the Doc Savage Supply Company. I appreciate the time he spent with me.
Wednesday, October 20, 2021