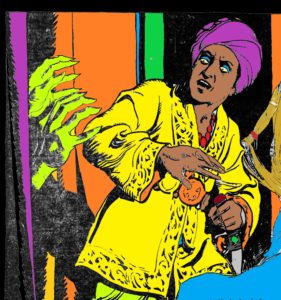 An article published in the Magazine section of the St. Louis Post Dispatch, on Sunday, April 15, 1934 is of interest to readers of "The Mystic Mullah." The article mentions several interesting items and is likely the inspiration for the "Mystic Mullah" story.  
The native leader is called the Mad Fakir or Mad Mullah.
Human spiders with poisoned fingernails are used for assassinations.
Soviet plots are mentioned.  In the story, Oscar Gibson is a Soviet agent.
There is a supernatural element in the predictions made by the Mad Fakir.  
The assassination of the King of Afghanistan, Mohammed Nadir Shah is mentioned in the article.  The Khan's name in the Doc Savage story is Nadir Shar.  The story is about Afghanistan.  In the Doc Savage story, Tanan, is close to Afghanistan.
The Mad Fakir shuns all modern contrivances.  Similarly, Tanan is a country very far behind modern times.