Watson Lewis Savage was born in Cromwell, Connecticut in 1859. He became a medical doctor in 1885 after graduating from the Long Island College Hospital. During the following years Watson Savage was particularly active with sports associations and soon came to specialize in exercise related medicine. He organized both the Berkeley Athletic Club in New York City and the physical education department for Columbia University while also working with the Pittsburgh Athletic Association. He was a prominent member of many national athletic associations and also published scientific research on exercise physiology as well as designing exercise equipment.

In 1899 Watson Savage opened Dr. Savage's Physical Development Institute which was chartered as "The New York Normal School of Physical Education" by the New York State Department of Education. Students initially went through a two-year degree program for gym and exercise after which they were certified teachers upon graduation. Later the program term was extended to three-years. The school was located at 308 West 59th Street in New York City. The October 26, 1890 issue of The Sun carried an advertisement for Dr. Savage's Physical Development Institute.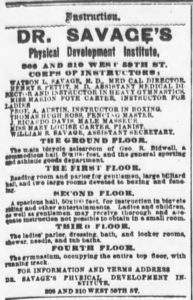 Courses of instruction included gymnastics, fencing, and an indoor running track. Over the years the advertised name evolved. At one point in 1922, the school called itself the "Dr. Savage Health Studio, Normal School and Physical Development Institute." More often than not, the advertisements ran the name as "The Savage School for Physical Education." Dr. Watson Savage died in 1931 but the school continued on for several years thereafter.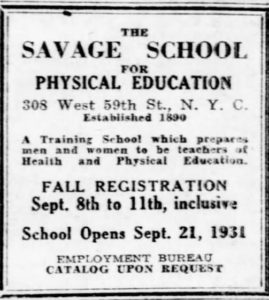 What is interesting is the association of the "Dr. Savage" name with exercise. The school was only a scant three miles from the Street & Smith offices located at 79 Seventh Avenue and it was a regular advertiser in the newspaper over three decades. The school also fathered some very competitive and successful sports teams which were the subject of many newspaper articles.
It cannot be said that the above circumstances had any influence on the Doc Savage stories. But readers cannot help but wonder if this provided some inspiration for the introduction of an exercise regime into the Doc Savage stories. That's not meant to overlook the influence of Charles Atlas who was proponent of the type of excises often described in the novels. It is an interesting subject open for speculation.