Eventually, after reading the Doc Savage stories multiple times over several decades I began to wonder about the origin of stories and what inspired Lester Dent to create such wonderfully entertaining works.
One of the items that piqued my curiosity was Lady Nelia in "The Lost Oasis." She presented a notable figure in the story. She was a on London to Cape Town flight when her plane developed mechanical problems and she landed at the lost oasis. She became a prisoner and one of the villains, Yuttal, became infatuated with her. Eventually she escaped with two other companions and sought the help of Doc Savage.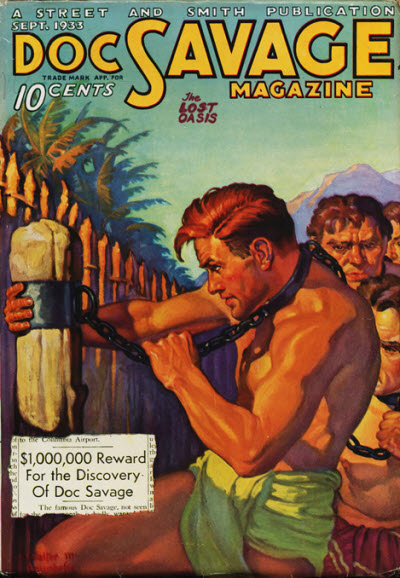 Initially, I believed that Lester Dent based her character upon a female aviator named Amy Johnson (1903-1941). In 1930, she became the first woman aviator to make a solo flight from London to Australia. Upon her return to England, she was greeted by crowd of one million fans and awarded the rank of Commander of Order of the British Empire. Dent may have taken notice when she set a world record for flying from London to Cape Town in November 1932. She traveled 6,200 miles in four days and six hours. 

Her husband, James Mollison (1905-1959), was also an aviation pioneer. He had previously set a new record early in 1932 flying from London to Cape Town.
Amy Johnson disappeared on January 5, 1941 when her aircraft crashed into the Thames River estuary. There is one account of her plane being shot down by friendly fire when she failed to give the correct password when queried by radio.

---
Recent research has provided additional information on the Lady Nelia's pedigree. The first aviator to fly solo from Cape Town to London was Lady Mary Heath (1896-1939). She flew a small open-cockpit Avoo-Avion airplane leaving Cape Town, South Africa in January 1928 and arriving in London in May 1928. The trip comprised a total distance of 11,000 miles. Prior to this accomplishment, she had twice set a world altitude record at 13,400 feet and then later at 24,700 feet.
She was badly injured from a crash at the Flying Derby in Cleveland, Ohio on August 29, 1929. Her injuries included a fractured skull and were so severe she was expected to die.
She eventually recovered but her injuries ended her flying career. She developed a problem with alcohol that resulted in her arrest for driving while intoxicated. She died on May 9, 1939, from injuries she received after falling down the stairs on a double decker tram in London, England. An autopsy found no traces of alcohol but did find evidence of an old blood clot that may have led to her fall.
---
The third female aviator of note was Lady Mary Bailey (1890-1960). In 1928, she flew from London, England to Cape Town, South Africa. She started her flight on March 9 and arrived at Cape Town on April 30, 1928. She left Cape Town in September landed in London on January 16, 1929. She was awarded the Britannia Trophy that year for her record setting solo achievement.
Lady Mary Bailey was yet again in the news in early 1933. Aviator Amy Johnson had set a new speed record for the London to Cape Town solo flight in November 1932. Lady Mary Bailey stated her intention of breaking that record. She left London on January 15, 1933, and landed in Oran, Algeria the same day. Her problems were just beginning as it turned out she had a case of influenza.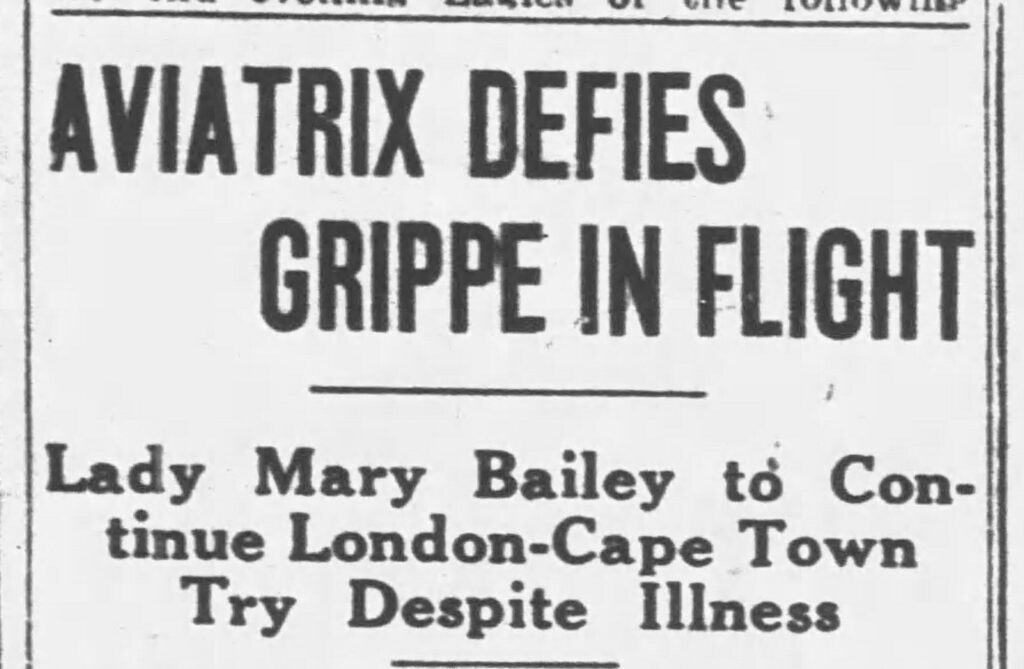 She left on the next leg of her trip at 9:50 pm tat evening. She failed to arrive at her next location. For the next few days, the newspapers were filled with headlines pondering her fate. She was located on January 19 about 1,400 miles south of Algeria. She had landed her plane when her fuel supply got low.
January 16, 1933

January 17, 1933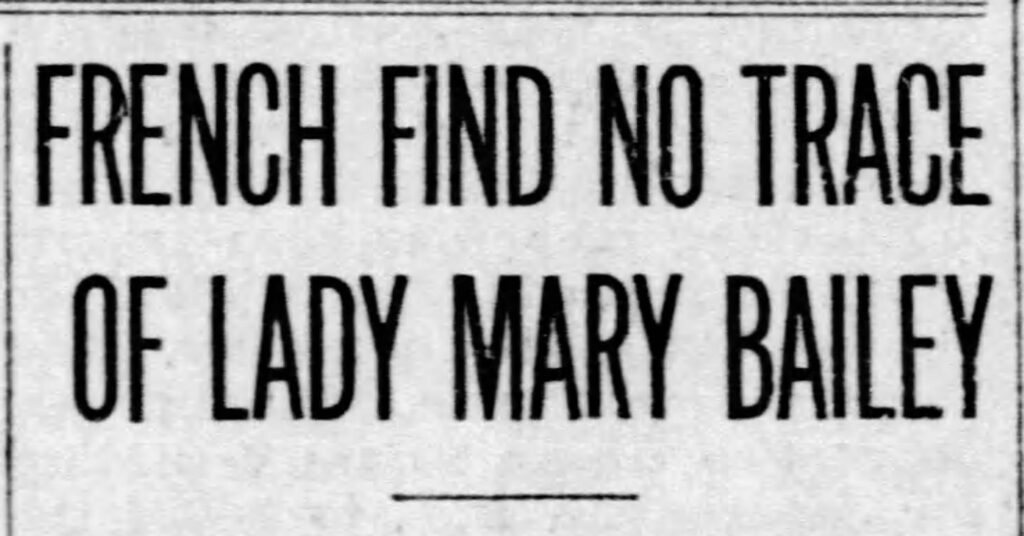 January 18, 1933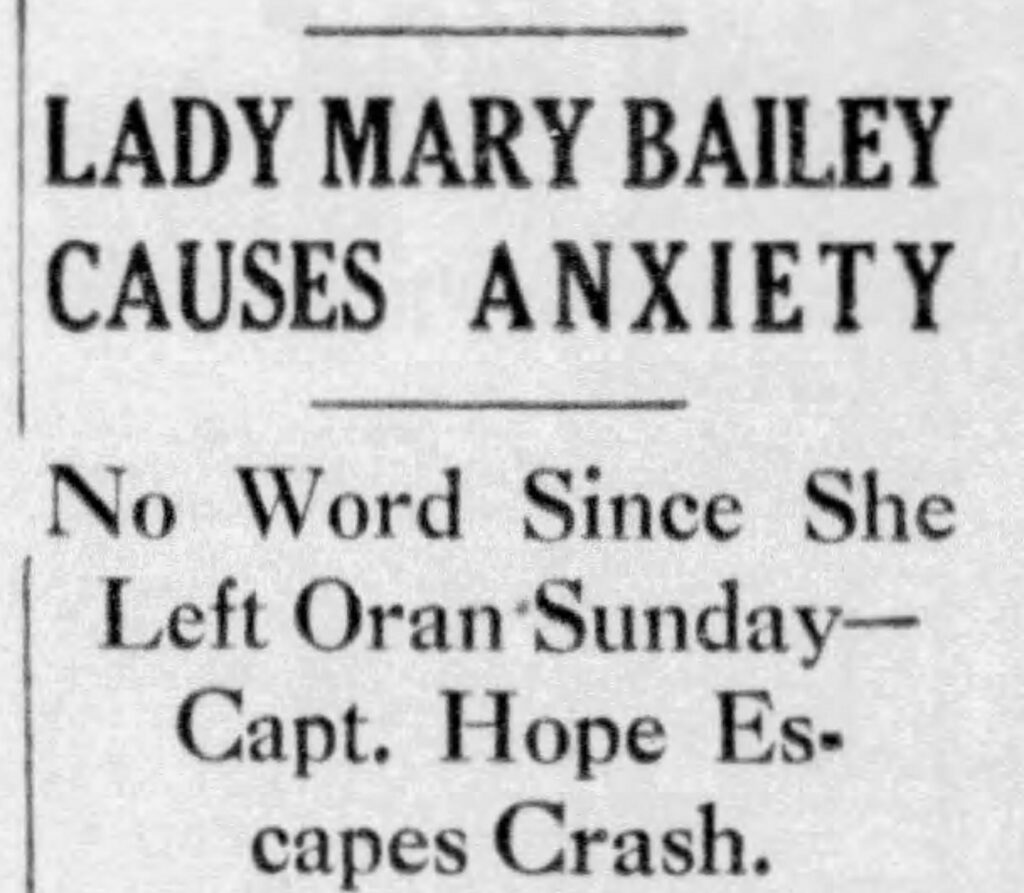 January 19, 1933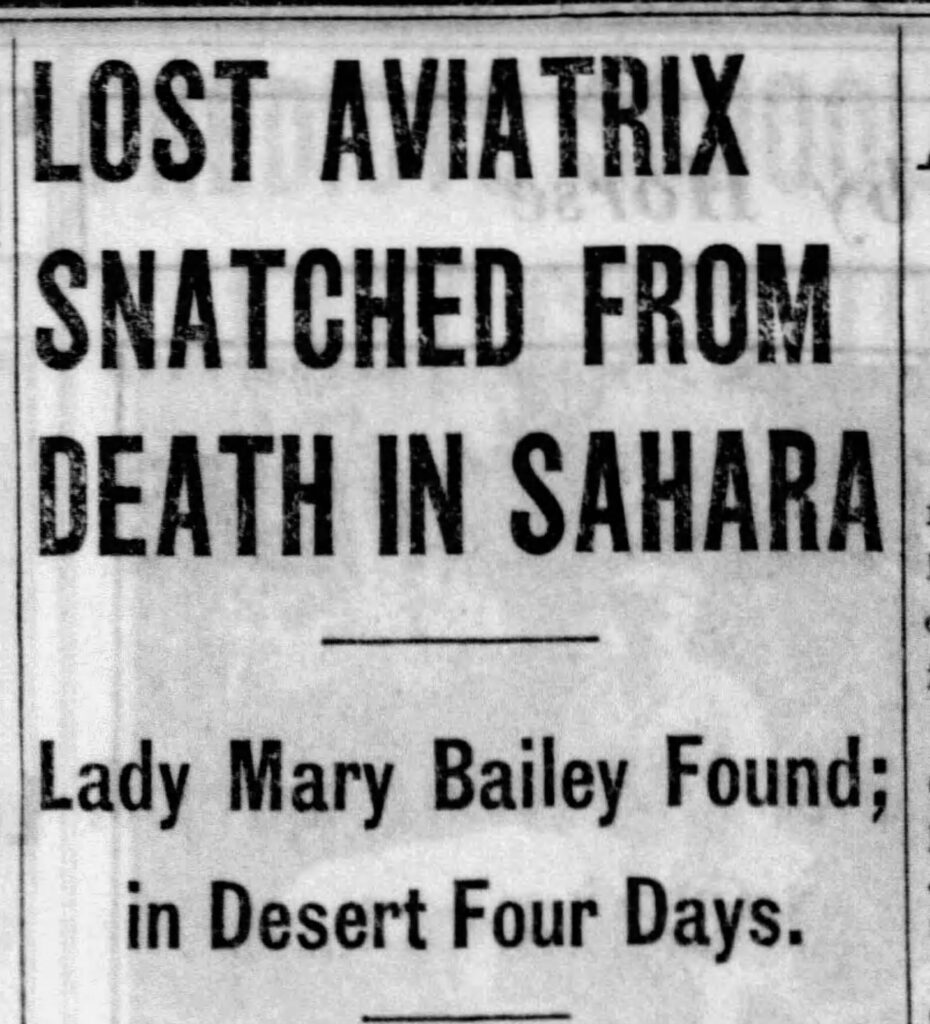 Certainly, any one of these three remarkable female aviators could have come to Lester Dent's attention and been the inspiration for the character of Lady Nelia. Given the circumstances of Lady Mary Bailey's time lost in the Sahara Desert and the closeness of the newspaper articles to the writing of "The Lost Oasis" she seems the best choice.