Where was the headquarters building located? Readers never know for sure just which Manhattan skyscraper houses Doc Savage's headquarters.  There are a few clues in the stories that are interesting. In The Man of Bronze, Doc and his men take a taxi from headquarters.  They enter the taxi and the story immediately states the men are traveling north on 5th Avenue.  That would seem to indicate the building is located on 5th Avenue. 
In The Land of Terror, Doc catches a taxi from Central Park and travels in a southerly direction on 5th avenue to his offices.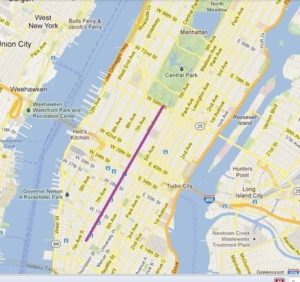 Comments in The Land of Terror about the trains on the 6th Avenue Elevated in Chapter 12 imply that it is nearby.  Information on Wikipedia indicates elevated lines existed on 2nd, 3rd, 6th, and 9th Avenues during the time the story was written. A few paragraphs later, readers find Doc's men racing downstairs to the street pursuing a gang member.  Doc's men immediately head up Broadway in chase.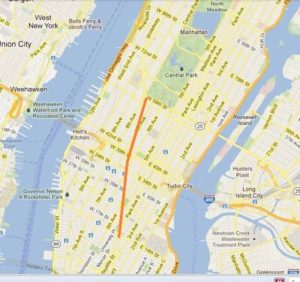 There is exactly one prominent building in Manhattan that fits this location.  The Empire State Building is located at 350 5th Avenue.  The block it is located on is bound by 5th Avenue on the east, 6th Avenue on the northwest, and Broadway on the southwest.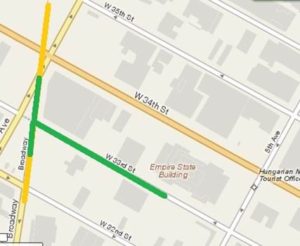 The description in Chapter 12 of The Land of Terror where Doc's men spot the gang member half a block distance and give chase on Broadway fits perfectly with an exit from the Empire State Building onto 33rd Street followed by an immediate turn onto Broadway.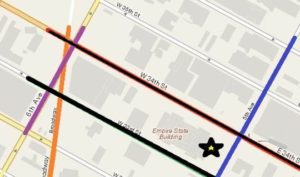 The stories all place Doc's offices on the 86th floor.   No other building in New York City in 1933 was this high except the Empire State Building.  Even then, the 86th floor was an observation deck rather than commercial office space.  The location fits in well with that described in the stories.  But the building itself is something else entirely.  The building in the stories, like Doc Savage, is larger-than-life.